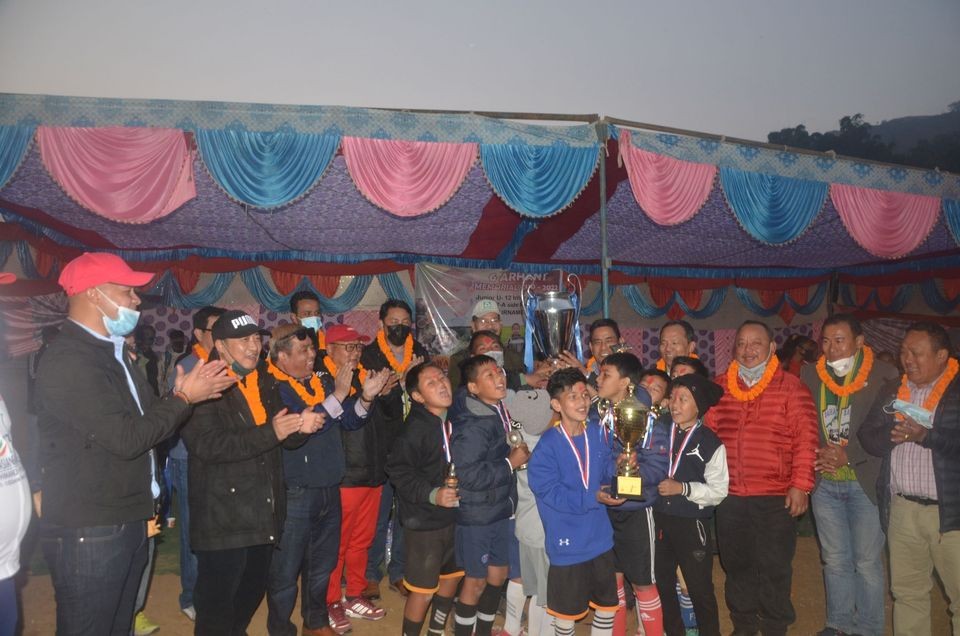 Gyanodaya Boarding School, Rangkhola has won the title of the 6th Aranta Memorial Cup Inter-School Level Seven A-Side Football Tournament held in Walling today. Gyanodaya defeated Bhupu Sainik Boarding School, Walling 2-1 in the competition organized by Walling United Football Club and sponsored by Aranta Memorial Cup Patron Kumar Thapa.
Gyanodaya received a running shield, trophy, medal, certificate and cash prize of Rs. 15,000 while Bhupu Sainik Boarding School Walling, which came second, received Rs. 10,000. The best player in the tournament was Chris Aryal of Gyanodaya and he was also awarded as the top scorer during the tournament. He scored 7 goals in the tournament.
Bhupu Sainik's Falraj Gurung was the best defender, Gyanodaya's Asim Gurung was the best goalkeeper, Gyanodaya's Heaven Gurung in midfield, Gyanodaya's Sanjay Rana was the best striker, Gyanodaya's Keshav Chahari was the best coach and Nepal Adarsh ​​Mavi, Waling was awarded as the best team. Similarly, Saraswati Hamal of Waling was awarded as the best player in Syangja district this year.
A total of 8 schools participated in the competition. While distributing prizes to the winning schools and players, Walling Town Chief Dilip Pratap Khan stressed the need to continue such competitions in the coming days. He expressed the belief that it would help in unleashing the hidden talents of young children. He also expressed the view that the municipality is committed to developing the sports field and the capacity of the players.
The competition has been held in Waling for the last six years in memory of Aranta. Patron Kumar Thapa said that the Aranta Memorial Cup was organized with the objective of showcasing the talents of young players and promoting Waling.
The closing ceremony was presided over by Motilal Kunwar, Vice President of Waling United Football Club and conducted by Joint Secretary Tolakant Bagale.