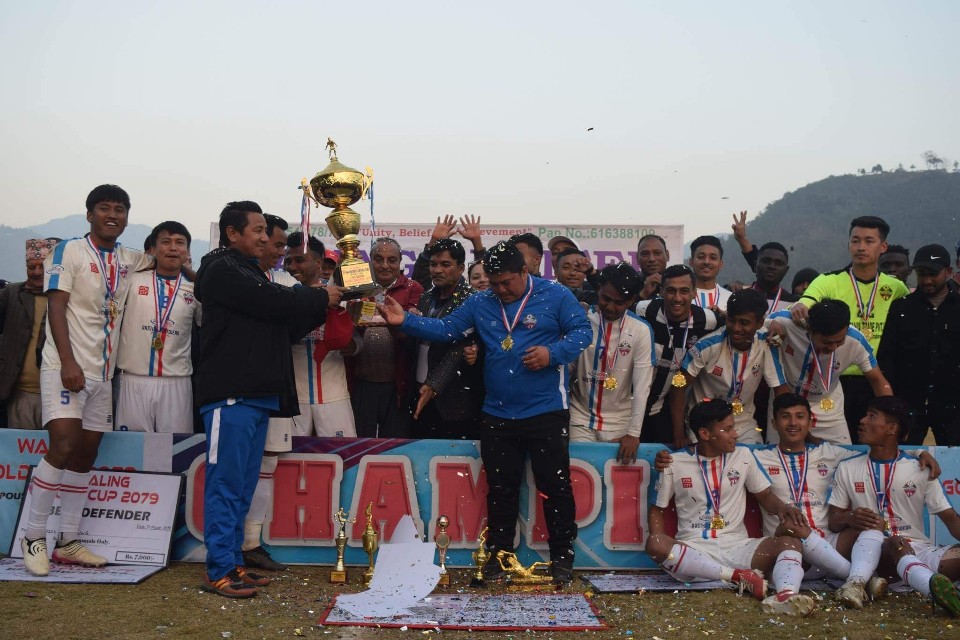 Hosts Waling FC 'Blue' have won the title of the first Waling Gold Cup in Syangja. They defeated Avenir FC, Cameroon 4-3 on penalties in the final to lift the title of the tournament.
The ninety minutes and the added thirty minutes remained goalless and the match was sent to penalties. In the shootout, Subash Gurung, Bishnu Thapa, Bishwas Shrestha and Tek Raj Gurung scored for Syangja while Laxman Ruchal hit wide. For Avenir, only Jean Anicet, Stehen and Bille Frank Daniel scored while Guine Daniel's spot kick was saved by Raja Babu Thapa and Abdel hit wide.
Home side received five lakh rupees as the winners while runners-up Avenir settled for two and a half lakh rupees.
Raja Babu Thapa was named the player of the match and received Rs. 4,000. He also received the goalkeeper of the tournament award and received Rs. 7,000.
Home side's Ashish Gurung was named the best defender, Kamal Thapa was named the best midfielder, Tek Raj Gurung was named the best striker and Dilip Thapa was named the best coach. Avenir's Timba Timba became the highest scorer fo the tournament. All of them received Rs. 7,000 as well.
Waling Gold Cup 2079: Helicoptor Lands In The Playing Field