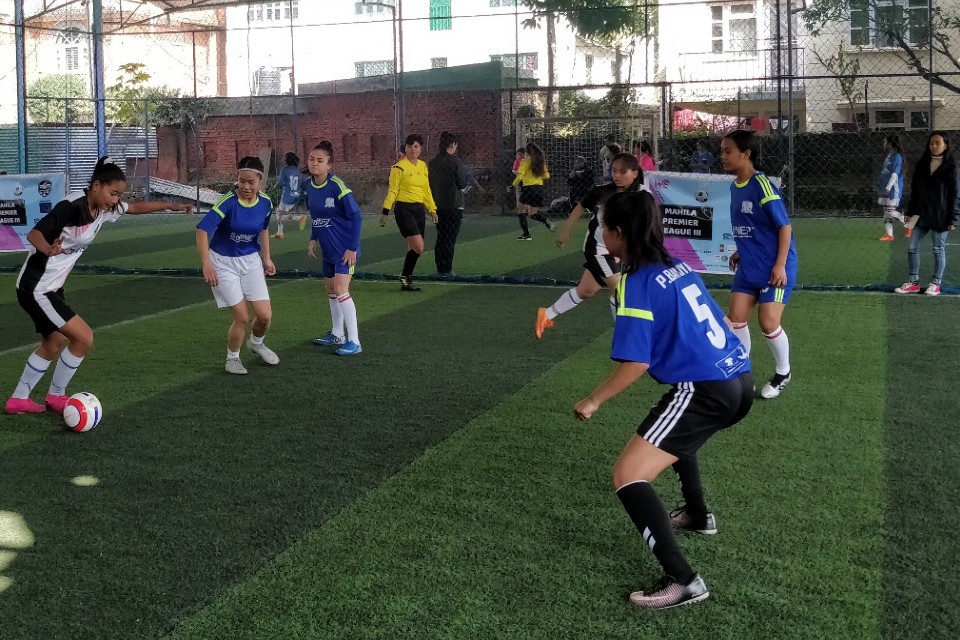 The third week of the Mahila Premier League III (MPLIII) presented by The WE United Project has ended with 38 goals scored in Grassroots Recreational Center, Mandikatar.

This took the total number of goals to 142 in 3 weeks. Kumari Futsal maintains their rank in first position with 12 points; Dhuku Futsal, Futsal Arena, Kumari Futsal Register Win In Mahila Premier League Week 3 



Dhuku Futsal, Futsal Arena and Lakhur Futsal all sharing 10 points each in 2nd, 3rd and 4th position separately by just the goal difference.

ABC Football Academy is right behind in 5th position with 8 points. MUFC Nepal Girls are on 6th position with 6 points. Barca Nepal and The Mighty Mahilas are on 7th and 8th position with 4 points each.

In first match, Futsal Arena won 11-1 over MUFC Nepal Girls, Kanchi Lama scoring double hattrick and Garima Rai with a hattrick. Dhuku defeated Barca Nepal by 12-0 goals, Susmita Tamang scoring Double hattrick and Manish Thapa Magar with a hattrick.

Second match was very competitive with Lakhur Futsal coming back from 1-0 to win 1-3 over ABC Football Academy. Kumari Futsal had a very comfortable win over The Mighty Mahilas by 9-1 goals, Pooja Rana and Anu Lama both with 4 goals each.

Mahila Premier League is organized by The WE United Project and sponsored by European Union.

The top three teams with the most points will be awarded prizes contributed by WE United's sponsors such as R.B. Diamond Jewellers, Gorkha Aesthetics, Samsara Designs, Shambala Hotel, The Last Resort, London Pub, Furniture Land, Kumari Futsal, Fire and Ice, Urban Food, Unibic and Bluebird Hotel, all of whom have stepped up to support our vision to empower women through sports.
Friendly Match: Nepal U15 Girls Team Vs Bhutan U15 Girls