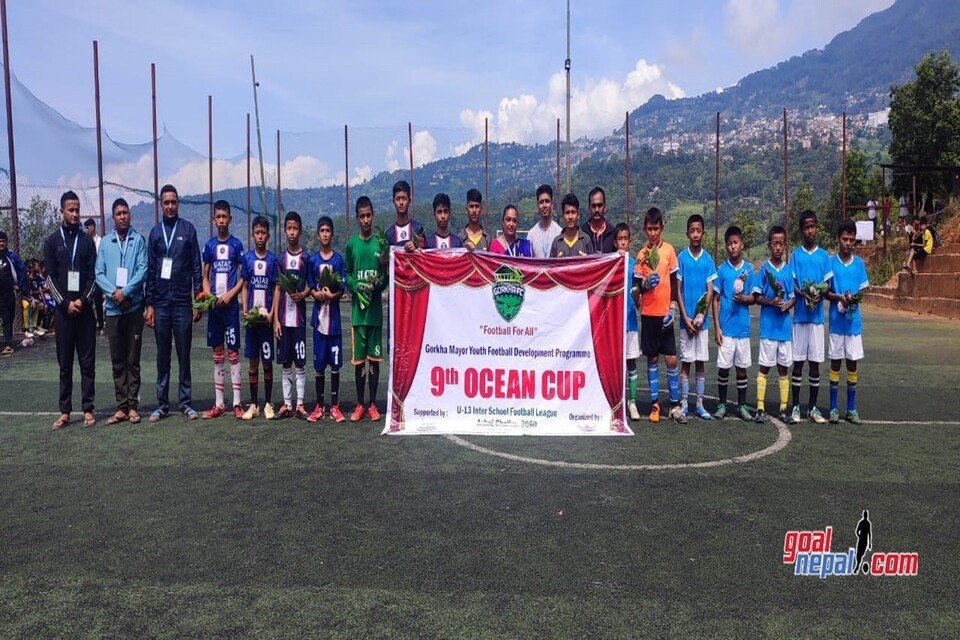 Gorkha-9, Dalbhanjyang, witnessed the commencement of the 9th Ocean Cup Inter-School U-13 League Football Tournament, as part of the 'Gorkha Mayor Youth Football Development Project.'

The Ocean Club, a prominent local organization, orchestrated the event, marking a significant step towards nurturing young football talent in the region.

The tournament kicked off at the Iman Bahadur Memorial Stadium with a packed schedule of five thrilling matches on its opening day.

In the inaugural clash, Lakshmi Community Education Sadan showcased their prowess by defeating Suryamukhi Boarding School with a scoreline of 5-2. In the second encounter, Mahalakshmi Mavi secured a narrow victory, triumphing over The Old Capital Mavi with a score of 2-1. The third match saw Ratnalakshmi Mavi emerge victorious with a 2-0 win against Saraswati Mavi.

The excitement continued to escalate as the fourth match witnessed Ratna Rajya Mau clinch a closely contested victory, prevailing over Morden Secondary English Boarding School by a score of 3-2. In the fifth and final game of the day, the host team, The Ocean Club, faced a formidable challenge, ultimately succumbing to a 0-3 defeat at the hands of Navjyoti Mavi.

As the tournament unfolds, the stakes are high, with the victorious team set to claim a cash prize of 7500 alongside the coveted title. Meanwhile, the runners-up will be rewarded with a trophy, medals, certificates, and a cash prize of 3500. To further motivate and acknowledge the participants, Amit Khatri, the match coordinator, announced that the plate final winners will also be duly recognized.

A total of nine schools from the Gorkha district, along with the host team, have enthusiastically fielded their U-13 football squads, contributing to the vibrant and competitive atmosphere of the tournament. This initiative not only promotes football development but also strengthens community bonds and encourages the youth to engage in healthy sporting activities.