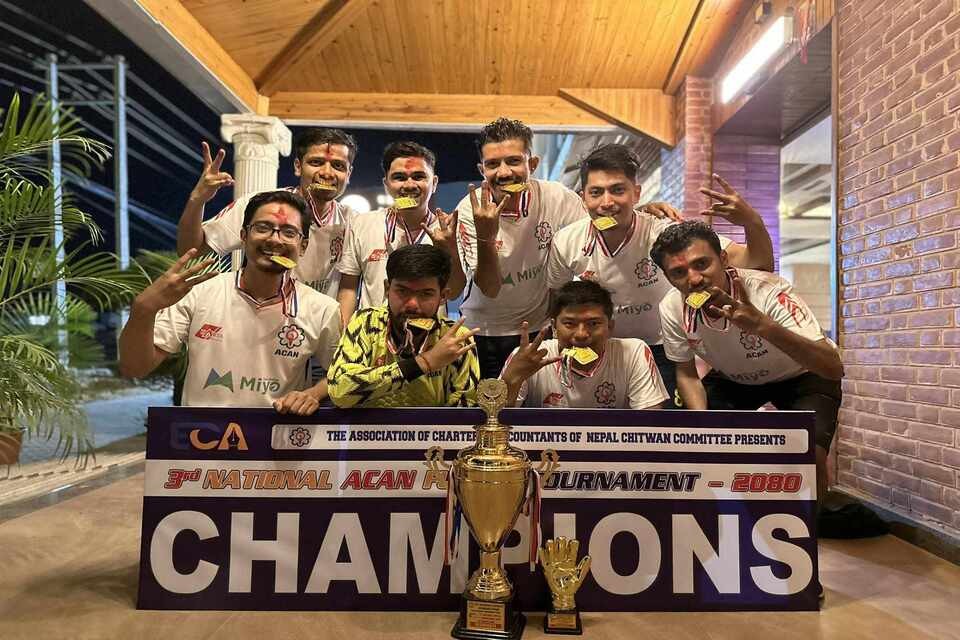 The 3rd National Acan Futsal Tournament concluded in dramatic fashion as Central XI emerged as the champions, defeating the tournament organizers, Acan Chitwan, in a heart-pounding sudden-death match.

The regulation time concluded in a goalless draw, setting the stage for an exhilarating finish to determine the winner.
In recognition of their outstanding performance, Central XI was awarded the championship title along with a substantial cash prize of 1,01,000, a testament to their futsal prowess. The valiant runner-up, ACAN Chitwan, received a commendable prize of 51,000 for their spirited efforts throughout the tournament.

Lake City Pokhara secured the position of 2nd runner-up, demonstrating their skill and determination on the futsal court and earning a prize of 21,000.

The individual accolades were also presented to notable players who shone during the tournament. Prakash Chapagain of Chitwan was honored as the "Player of the Tournament," a testament to his exceptional contributions to his team's success. Sandip Phuyal, also hailing from Chitwan, secured the title of "High Scorer," showcasing his scoring prowess during the competition.

Bimal Dungel, a key player from the championship-winning Central XI, was celebrated as the "Best Goalkeeper," underscoring his instrumental role in his team's victory. Additionally, Prakash Lamichane received the distinguished "Player of the Series" award, further cementing his status as one of the standout performers of the 3rd National Acan Futsal Tournament.

The tournament not only provided an electrifying display of futsal talent but also highlighted the competitive spirit and dedication of the participating teams. Central XI's triumph and the outstanding individual achievements added an extra layer of excitement to this prestigious futsal event.