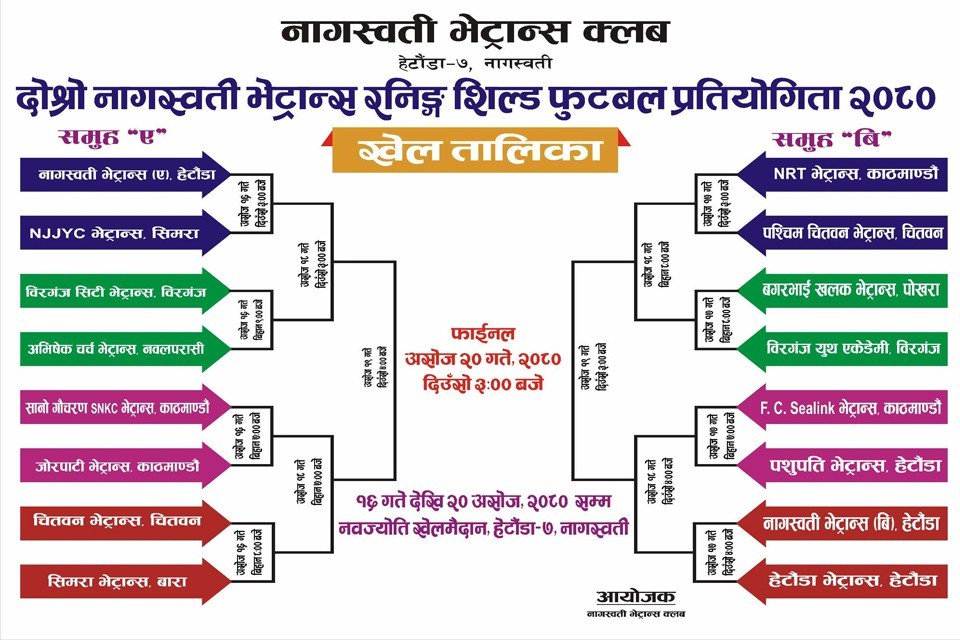 Hetauda-7, Nagaswati, Makwanpur is gearing up for the commencement of the eagerly anticipated second edition of the Nagaswati Veterans Cup National Veteran Football Tournament, scheduled to kick off on October 16th.

Organized by the Nagaswati Veterans Club, the tournament's preparations have been meticulously completed, promising an exciting sporting spectacle.

The inaugural day of the tournament, set to unfold at the Navajyoti Playground in Hetauda-7, Nagaswati, is set to feature a total of four compelling matches. The 16 participating teams have been strategically divided into two groups, ensuring a competitive and spirited contest. The culmination of the tournament is slated for October 20th, when the nation's top veteran football team will emerge victorious.

The stakes are high in this prestigious competition, with the championship title carrying a handsome cash prize of 2 lakh. The runner-up will not leave empty-handed, as they will be awarded a trophy, medals, and certificates, in addition to a cash prize of 1 lakh. The tournament's standout performer, recognized as the best player, will be honored with a trophy and a substantial cash prize of 50,000.

To bring the action to a global audience, GoalNepal.com, the official media partner of the tournament, will provide live broadcasts of all matches. This initiative aims to connect football enthusiasts and fans with the excitement and drama unfolding on the field, further elevating the profile of the Nagaswati Veterans Cup National Veteran Football Tournament.