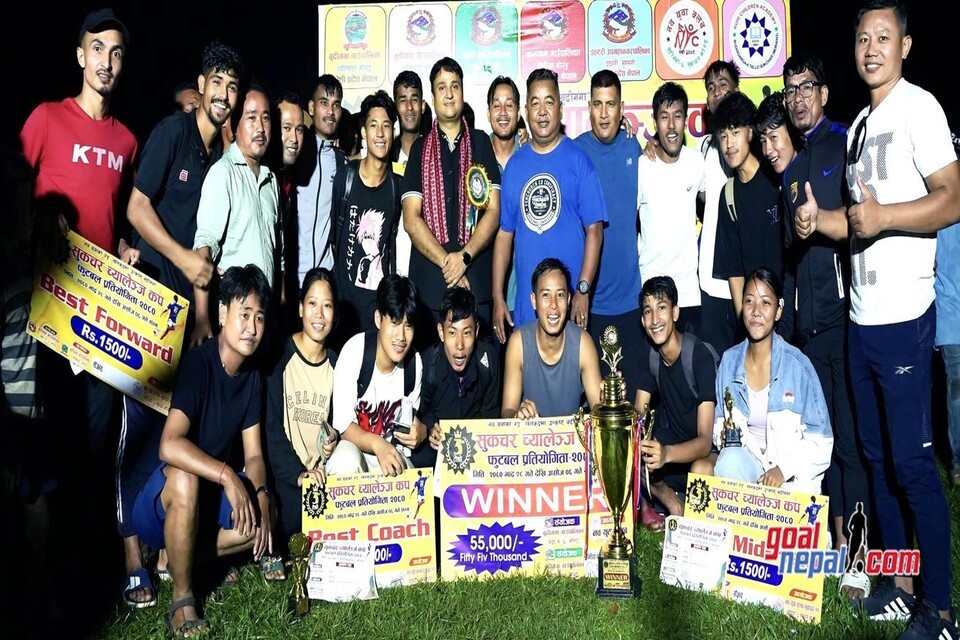 In a thrilling showdown at the Budhiganga Stadium, Kusume Signing Club, hailing from Kerabari, Morang, emerged victorious in the 3rd Sukchar Challenge Cup Open Knockout Football Tournament.

The pinnacle of the tournament saw Kusume clinch the championship title by defeating the host team, Navayuva Club, in a closely contested final match, with a scoreline of 2-1.

Vikas Pariyar and Vishal Chemjong were the standout performers for Kusume, securing the crucial goals that sealed their championship victory. Meanwhile, Mahendra Karki managed to find the back of the net for the Navayuva Club, offering the team a consolation goal in their commendable effort.

In recognition of his exceptional performance in the final match, Vishal Chemjong of Kusume Signing Club was named the "Man of the Match," earning himself a cash prize of 1100 and a prestigious trophy.

Kusume Signing Club's triumph in the tournament not only secured them the title but also came with a cash reward of 55,000. The gallant runner-up, Navayuva Club, was not left empty-handed, receiving 35,000 in cash along with a trophy, medals, and certificates.

The tournament also acknowledged outstanding individual contributions to the sport, with awards in various categories. Kusume's Kai Purna Chemjong earned the title of the best goalkeeper, while the youthful talent Mahendra Karki was honored as the best defender. Sandesh Acharya of Kusume was recognized as an exceptional midfielder, and Kusume's forward line was lauded for their prowess.

Deepak Bhandari of Kusume Signing Club was celebrated as the best coach, and the budding player award was claimed by Sagar Choudhary, a promising talent associated with the organizing committee. Navayuva's Umesh Karki was bestowed with the highest scorer award.

Exceptional performers in the individual categories received 1,500 in cash along with a trophy. The tournament's most distinguished player, Rupesh Marjhi, was granted a cash prize of 2500, in addition to a trophy.

The prize distribution ceremony was graced by esteemed guests, including former Finance and Planning Minister of Koshi Province, Jiwan Acharya, who presented awards to the winning players.

This football extravaganza, organized by Youth Club Sukchar 11 in Budhiganga-6, Sukchar, Morang, featured a total of 10 participating teams, creating a spirited and competitive atmosphere throughout the tournament.
6th Rumpum Udayapur Gold Cup: Morang Stuns Nepal Police - MATCH HIGHLIGHTS