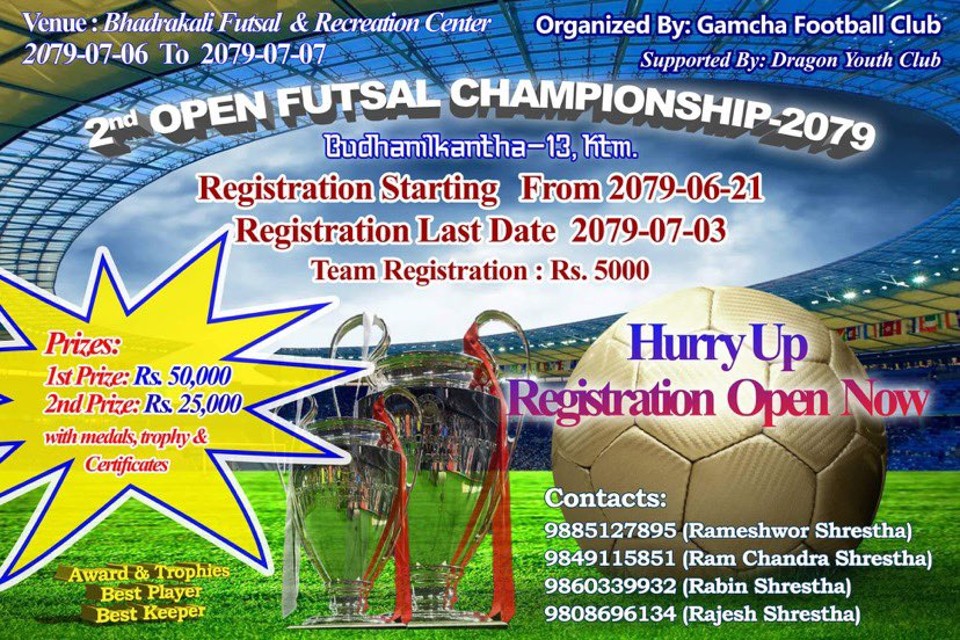 Kathmandu - The second open futsal tournament is going to be held in Budhanilkanth, Kathmandu, organized by Gamcha Football Club located in Budhanilkanth Ward No. 13. Clubs from Kathmandu Valley and other districts will be allowed to participate in the two-day futsal tournament on Karthik 6 and 7.
The registration process has also started from Ashwin 21st to participate in the competition. The registration period for the competition will last until Karthik 3. Ramchandra Shrestha, the coordinator of the competition, has said that there will be a fee of Rs. 5,000 for registration.
Coordinator Shrestha has said that the winning team will be awarded a trophy, medals and certificates along with Rs. 50,000 cash. Likewise, the runners-up will receive a trophy, medals and certificates along with Rs. 25,000 cash.
The tournament is to be held at Bhadrakali Futsal and Re-Creation Center, Gamcha located in Budhanilkanth Municipality Ward No. 13 of Kathmandu.