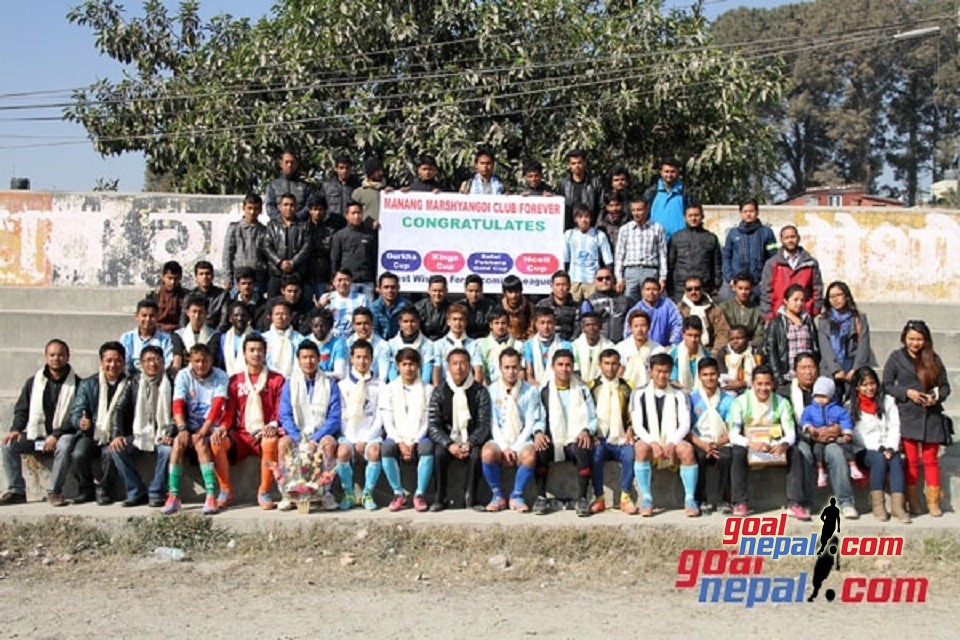 GoalNepal.com helped Laxmi Hyundai MMC to form an official fan club - MMC Club Forever.
MMC's die-hard fans gathered at club's training ground on Friday morning, Sanogaucharan football ground, where they met with MMC club officials and players.
An MoU was signed by the club and the supporters group at the same program.
The Club president Jamling Ghale expressed his happiness to see MMC's first official fans group.
"We would like to thank GoalNepal CEO Bikram Thapa for the support. It is a historic day for us. We have given an official status to MMC Club forever. We are very happy to see lots of MMC fans in the group. We will work together to build a solid fan base of the club not only in Kathmandu but in the entire nation", said Ghale.
On behalf of the supporters group, Himalayan Manoj, Everest Pride Nepal and Pujan Baral Ilameli thanked the club for providing the official status to the group.
"We will walk together with the club. MMC is in our blood. We will support this club till we die", they jointly said.
"We are very amazed to see many MMC fans joining in our group. We are now making group's website which will help all MMC fans to share their views in the same platform".
More than 50 MMC supporters, including some ladies fans, were present in the program.
MMC Club secretary Kumar Bhattarai delivered his welcome speech.
GoalNepal.com is initiating the program to form fans' club for all Nepalese clubs. It has already helped Yeti Himalayan Sherpa Club to form the fans club.
GoalNepal CEO Bikram Thapa thanked MMC for understanding the value of fan culture.