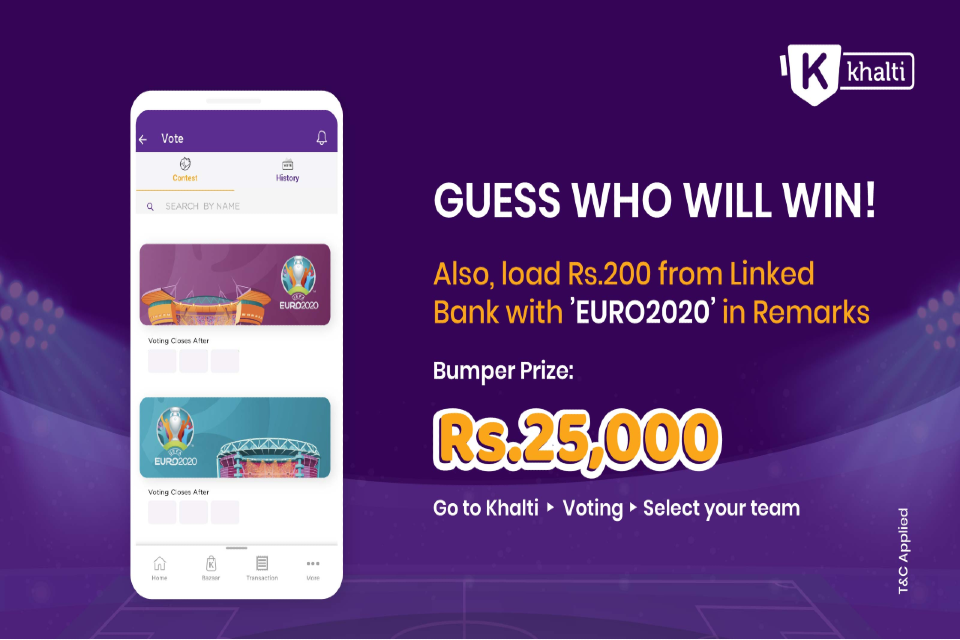 Nepal's one of the prominent digital payment service providers, Khalti has launched a Predict and Win campaign for Euro 2020.

From this program, users who participate with the most correct predictions stand a chance to win Rs.25000 along with other exciting daily cashback coupons.

Any KYC verified user can participate for Free by voting for the country they think will win or if they'll end up in draw through the Khalti app. Likewise, participants must load at least Rs.200 from their linked bank account. While loading
funds, one must write EURO2020 in the Remarks section.

Each day, 10 correct predictions will get 50% OFF Khalti coupons.
Users need to follow these simple 3 steps to link their bank account to Khalti:

1. Login to Khalti App and tap on Link Bank Account
2. Select bank and enter all necessary information
3. Enter the received OTP code to link bank account to Khalti successfully

On this campaign, Khalti's Brand Marketing Manager, Sirish Shrestha stated, "We (Khalti) have conducted the Predict and Win program with the vision of encouraging participants to make online payments. Through this campaign, football fans in Nepal will have an opportunity to win exciting prizes along with entertainment. We believe thaMore information about the terms and conditions of the Predict and Win campaign can be known from Khalti's blog.
About Khalti
Established in 2017, Khalti is a licensed by Nepal Rastra Bank as a Payment Service Provider in Nepal. It helps businesses accept online payments on mobile apps and websites. From Khalti, customers can recharge their phone, pay their internet bill, insurance premiums, Government Revenues, Waste Management Bills, buy domestic flight tickets, and many more. Khalti digital has aided to save its users time and money by providing faster services and exciting cashback. It can be downloaded from Khalti.com/app.t the campaign will add more to their excitement.
GoalNepal CEO Bikram Thapa's Interview With Radio Thaha Sanchar