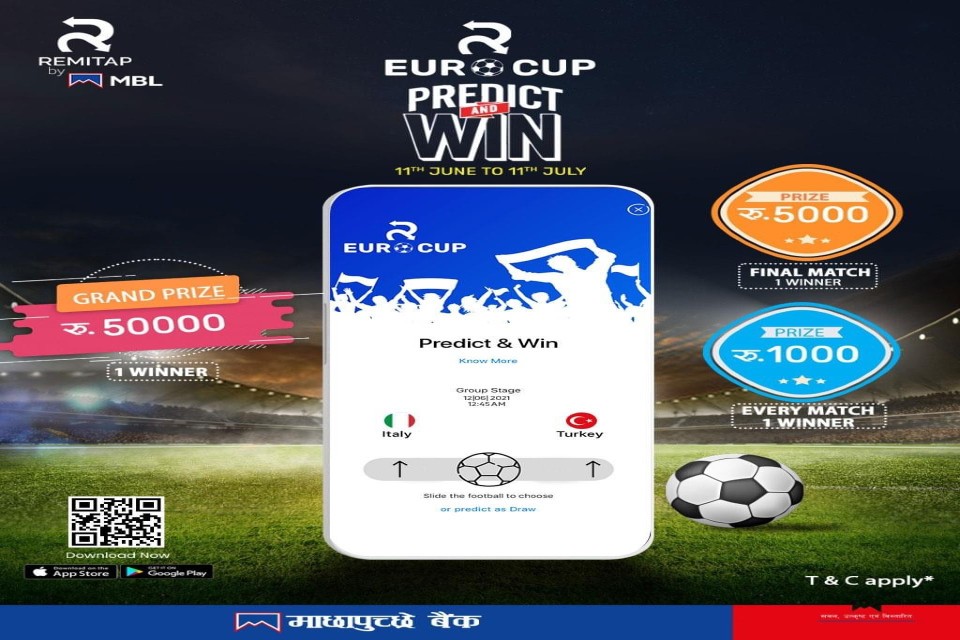 Machhapuchre Bank has started Euro Cup predict & win contest for all football fans.
The Bank said the contestants need to download
Remitap
by MBP application and complete signup process to be eligible for the prizes.
The winner from each game will get NRs 1,000.
The Bank added NRs 5,000 will be provided to one lucky winner for the final match and
NRs 50,000
as a grand prize. The bank will carry out a separate lottery for the grand prize.
To predict and win a contestant needs to download Remitap by MBL application and complete signup process
On the home page of the application there is a separate module for prediction
Contestant can confirm their prediction
Winner of every contest will be announced next day via social media platform
Prize Amount is as under:
For every League and Knockout Game : wallet balance of 1,000 after applicable taxes will be provided to one lucky winner via lottery system
For Final Match : Wallet Balance of NPR 5,000 will be provided to one lucky winner via lottery system
Grand Prize Winner: for entire contestants, we shall carry out a separate lottery for grand prize winner. The grand prize of NPR 50,000 will be provide after deduction of applicable taxes
**********************************************
युरोकपको बहार, प्रत्येक जितमा आकर्षक उपहार !!

Remitap को EURO CUP PREDICT AND WIN campaign मा भाग लिनुहोस् र सहि अनुमान लगाउँदै आकर्षक उपहारहरु जित्नुहोस् ।
सहभागिता जनाउन यी तरिका अपनाउनुहोस्:
स्टेप २ : App मा साइन अप गर्नुहोस्
स्टेप ३ : छेउको मेन्युमा गएर युरोकपको पोष्टरमा क्लिक गर्नुहोस्
स्टेप ४ : कसले जित्छ भनेर अनुमान लगाउनुहोस्
* खेल १२ जुन राती १२:४५ मा शुरु हुनेछ ।
सहभागीहरुले खेल शुरु हुनुभन्दा २४ घण्टा अगाडिबाट खेल सुरु हुने समय सम्म अनुमान गर्न सक्नुहुनेछ ।
*स्पिन व्हीलको प्रक्रियाबाट विजेताहरू छनौट गरिनेछ र हाम्रो फेसबुक पेज मार्फत दैनिक साँझ ५ बजे विजेता घोषणा हुनेछ ।
GoalNepal CEO Bikram Thapa's Interview With Radio Thaha Sanchar