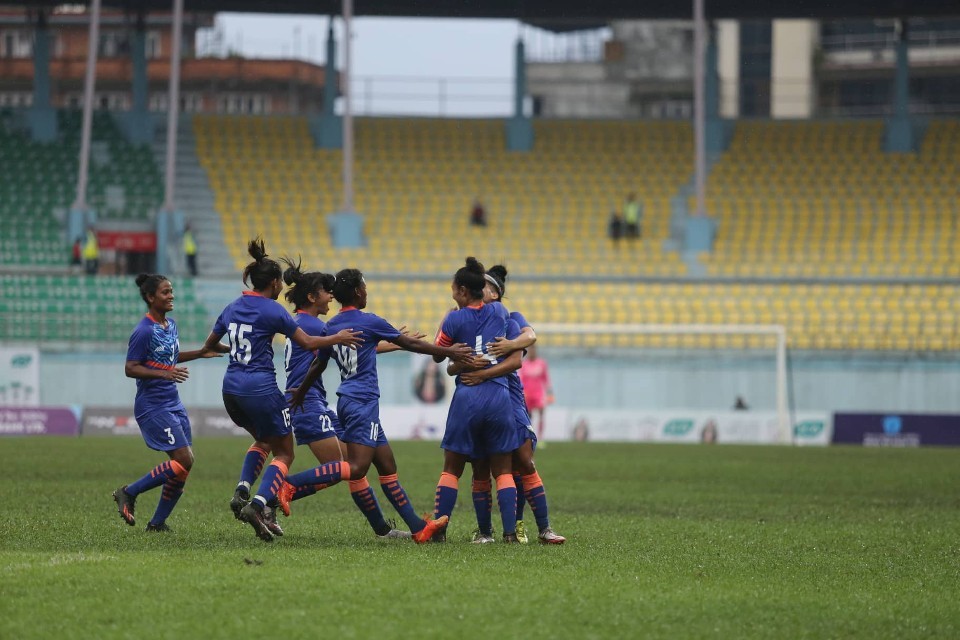 India have qualified for the semifinals of the SAFF Women's Championship with a thumping victory over the Maldives. India defeated Maldives 9-0 to secure their place in the final four. Anju Tamang scored four goals for India in the victory.
India dominated the Maldives for the entirety of the match. India took the lead in the match in the 24th minute through Anju Gurung. Anju blasted the ball over the goalkeeper from the left-hand side of the box. No Maldivian player closed Anju in.
Priyangka Devi doubled India's lead in the 42nd minute after a cross after a short corner wasn't dealt by the Maldives. The ball fell kindly for Priyangka who rolled the ball into the back of the net.
Anju scored another towards the end of the half. Ratambala Devi's long-range effort hit the crossbar and ricocheted off goalkeeper Aminath Leeza and Anju was there to tap that in. The first half ended 3-0.
India scored quickly into the second half through Grace Dangmei. Soumya Guguloth scored her second of the tournament, this time after coming off the bench as well, in the 55th minute to take the scoreline to 5-0.
India added another four goals in four successive minutes.
Kashmina MK took the scoreline to 6-0 in the 84th minute. And just a minute later, Anju Tamang completed her hat-trick. Grace Dangmei scored her second of the match in the 86th minute while Anju Tamang rounded off a 9-0 victory with her fourth goal of the match in the 88th minute.
India will play Bangladesh in their final group match. The winners of that match will finish as the group winners and face the second-placed group B team in the semifinal. However, a draw would also be enough for India to finish as the group winners.
India have won all of the previous five editions of the tournament.