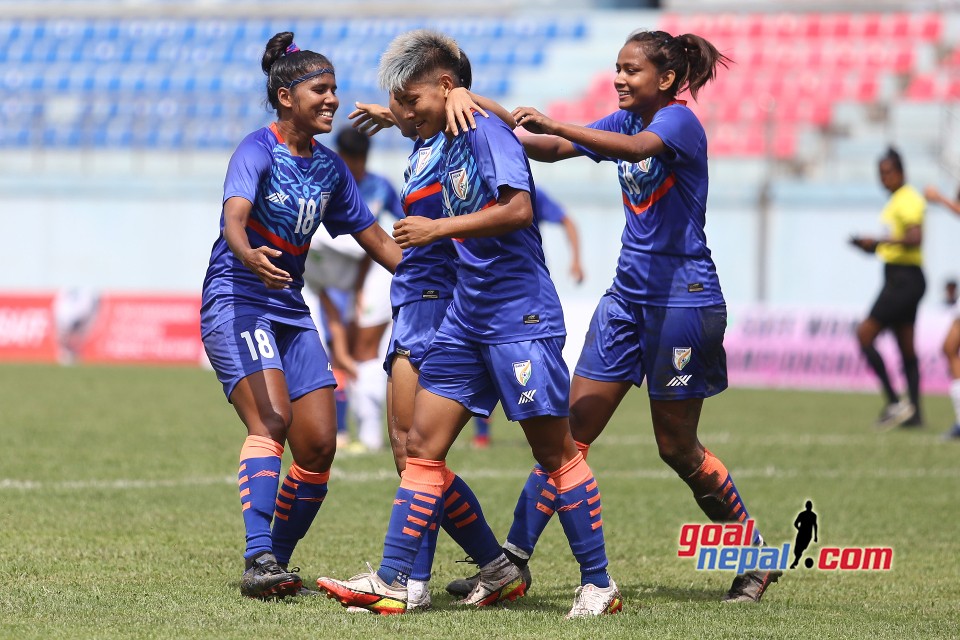 Tournament favorites and five-time champions Indian Women's Team made a winning start in the SAFF Women's Championship 2022. India defeated their bitter rivals, Pakistan, 3-0 to put three points on the board in Group A.
In what looked like a comfortable match for the South Asian giants, India seized the lead in the opening Group A match at the Dasharath Stadium in Kathmandu thanks to an unlucky own goal by Pakistan captain Maria Khan. Ranganathan Sandhya's cross from the left side was parried away by the Pakistan goalkeeper Shahid Bukhari and found its way in off Maria's foot.

And only two minutes later, India went ahead 2-0, thanks to Grace Dangmei. Grace finished a wonderfully rolled through-ball by Anju Tamang at the near post with ease. The first half ended 2-0 in favor of India.

India dominated the ball possession charts and added another goal towards the end of the match. Substitute Soumya Guguloth side-footed a Ranjana Chanu cross with her left foot into the bottom corner of the goal-post, giving no chance to Pakistan goalkeeper Bukhari.
Grace Dangmei was named the player of the match for a stellar performance in India's win.
India will now face the Maldives on September 10 and Bangladesh on September 13. Pakistan will face Bangladesh on the 10th before facing the Maldives in their final group match on the 13th.

Maldives and Bangladesh of the same group are scheduled to play against each other at 5:30 PM later today.

The SAFF Women's Championship is going on in Kathmandu, with seven South Asian sides competing for the title.