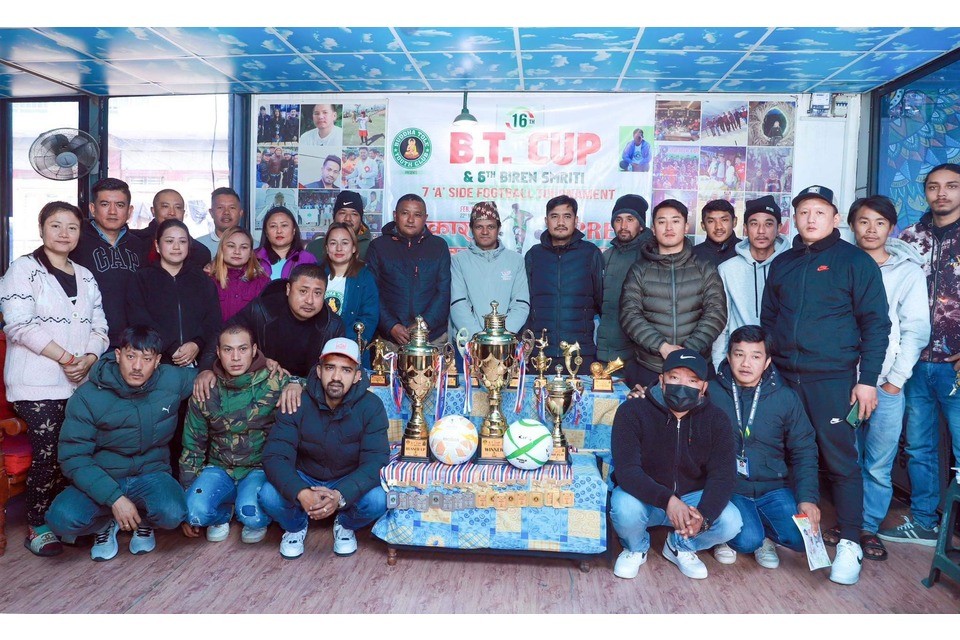 Buddhatol Youth Club is going to organize the 16th BT Cup Sixth Biren Smriti Seven A Side Open Football Tournament in the third week of Magh. It was informed through a press conference held on Saturday that the competition will be held from the 22nd Magh to the 2nd of Falgun at the Old Tudikhel Ground of Pokhara Metropolitan City.
President of the club Asim Thapa said that they have been conducting the tournament for a long time with the aim of developing football.
He said that in the past, the tournament was organized in Chaitra in memory of the late Biren Gurung, the advisor of the club. He informed that it will be started from Gurung's birthday. "The late Biren Dai was the advisor of our club, we have been organizing the competition in Chaitra in his memory," President Thapa said, "We have moved the competition to Magh after the birthday of Dai since it is windy and raining in Chaitra."
He informed that the winner of the competition will be awarded 1 lakh 61 thousand 151 rupees along with shield, medal and certificate. According to him, the runner-up will receive 1 lakh 1 thousand 111 rupees along with shield, medal and certificate.
Similarly, the best player of the competition will be awarded eight thousand with a trophy.
President Thapa said that the best goalkeeper, defender, midfielder and top scorer will be awarded six thousand rupees each and a trophy. Rs. 9,000 and a trophy will be awarded to a disciplined team.
According to the organizers, about 40 teams will participate in the competition and about 2.3 lakhs will be spent for running the competition.
POKHARA STADIUM - 10% WORK IS STILL LEFT