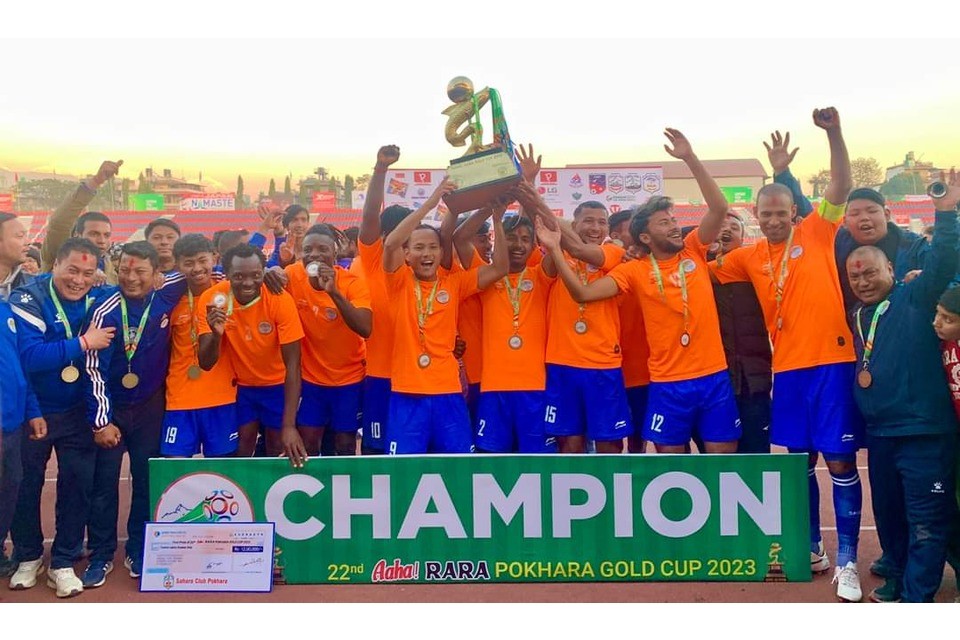 Sankata Club have won the 22nd edition of Aaha! Rara Pokhara Gold Cup. Sankata defeated Bhutanese Youth Sports Club, USA 3-2 after extra time to win their second title in three years.
In what was a competitive affair, Sankata Club had taken a 2-0 lead in the first half but BYSC quickly equalised within the first forty-five minutes.
Suraj Jeu Thakuri gave Sankata the lead of the match in the seventh minute. A clearance off a cross fell to him at the edge of the box which was finished off by the Nepal international first-time. Messouke Oloumou doubled Sankata's lead in the 34th minute.
But BYSC came back with two goals in quick succession. Rene Santillon scored the first goal for them while Willis Griffith brought the match back to level terms towards the end of the first half.
After an eventful first half, the second half remained goalless with plenty of chances falling to both sides' but no goals were scored and the match was sent to extra time.
And in extra time, Sunil Bal netted the winner in the 117th minute of the match. Stephane Binong's layoff was finished swiftly by Sunil Bal who gave the Nepali football fraternity yet another Sunil Bal moment to remember.
With the title, Sankata Club received twelve lakh rupees while the runners-up BYSC had to settle for six lakhs.