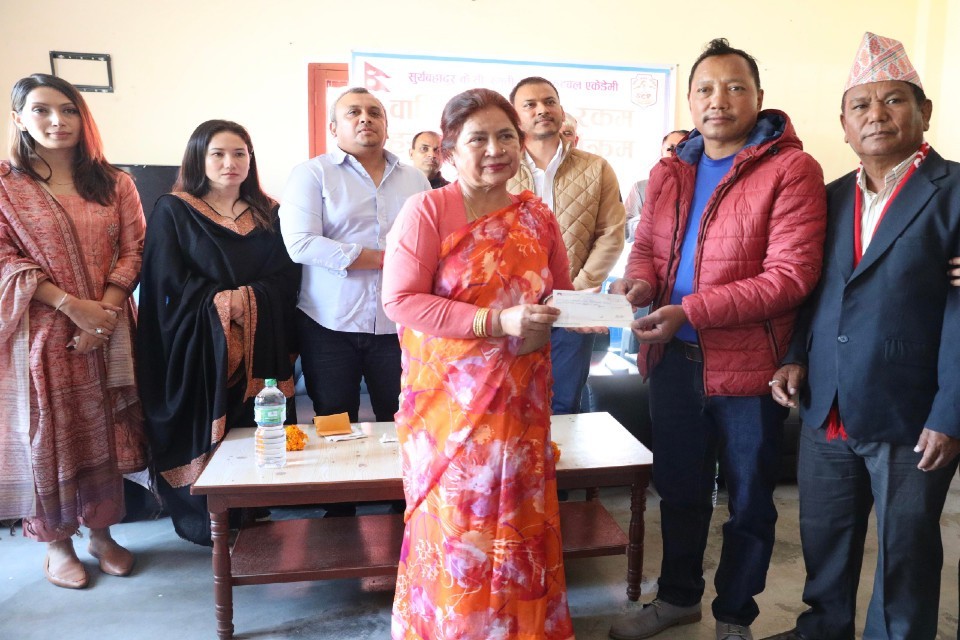 Surya Bahadur KC Memorial Sahara Football Academy has been supported by the family of late Surya Bahadur KC with Rs.15 lakhs. This support was given to the academy run by Sahara Club Pokhara on the occasion of KC's second annual death anniversary on Thursday.
In the program, KC's wife, Prem Kumari KC, handed over support to Sahara Club Pokhara president Hariram Gurung (Suraj). Speaking on the occasion, KC's son and young industrialist Prakash KC said that his family was involved in the running of the academy because of his father's institutional closeness to Sahara and his love for everyone. He also expressed his commitment to join hands in every work of Sahara in the future.
Kiran KC, another son of KC and director of Himshree Foods, said that he was very proud to have his father's name associated with Sahara Academy. He vowed to establish his father's work and ideas and keep them alive. Former SSP Krishna Bahadur Thapa, honorary member of Sahara Club Pokhara Mahesh Gurung and others discussed the biography of KC and his contributions in various fields of social service in the program.
Last year The KC family is taking responsibility for the academy, which is being run by the club, with an annual budget of Rs. An agreement was made to provide 15 lakhs for 10 years.
In the program itself, in memory of Jum Bahadur Gurung, his family has established an endowment fund. Tulsi Gurung's wife, Tulsi Gurung, handed over the amount of Rs 50,000 to operate the fund in the memory of her husband in the program presided over by the president of the club Hariram Gurung (Suraj).
Hari Gurung, president of the club, said that 14 children from difficult circumstances are living in the academy.
Himshree Foods' product Aha Rara Noodles is also serving the main sponsor of the 'Aha-Rara!' Gold Cup competition organized by Sahara Club. Sahara Club itself has purchased land and operated an academy in Dovilla.
Sahara Club President Suraj Gurung Talking About 20th Aaha! RARA Gold Cup