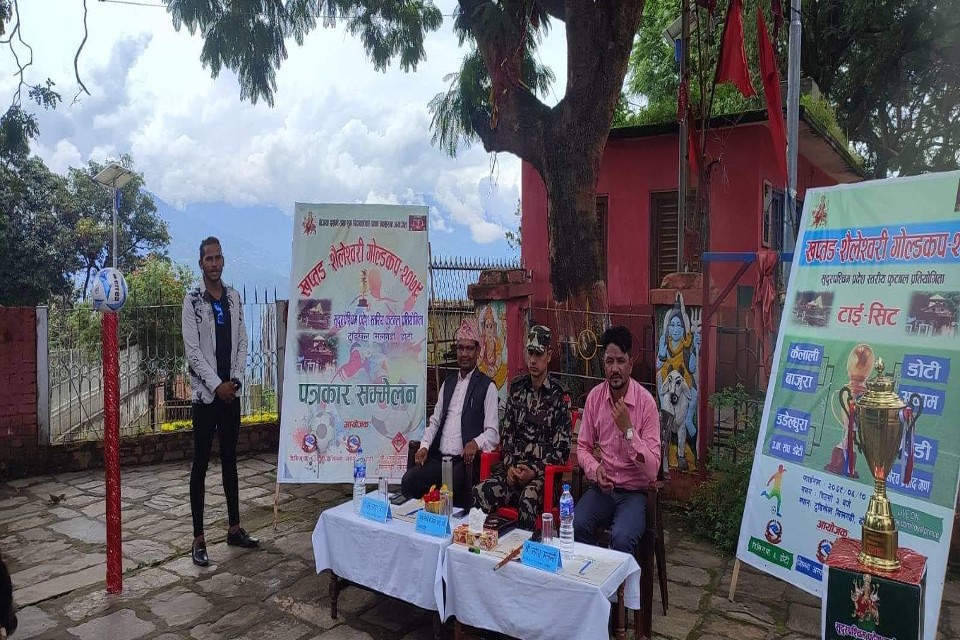 On the occasion of Bijaya Dashami, the great festival of Hindus and auspicious Diwali, a festival the "Khaptad Shaileshwari Gold Cup 2079" province-level football tournament is going to be conducted at the Tudikhel ground of Silagadi, Doti jointly organized by Mr. Bhairav ​​Prasad Gana, Dipayal Silagadi Municipality Ward No. 6 Doti, District Hospital, Doti.

Eight teams of Achham, Bajura, Dadeldhura, Kailali, Baitadi, Doti, Bhairav ​​Prasadgan, Doti and Udhyog Banijya Sangh, Doti will participate in the match.

The first prize of the game is Rs 1 lakh and the second prize is Rs 50,000. All participating teams have been arranged to stay at Newar Gardi Homestay for three days in order to publicize the Newar Gardi Homestay located in Silagadi Doti, promote its management and make it a focal point of attraction for internal and external tourists. Also, Rs 5,000 has been arranged for all the participating teams as transportation expenses.

"Khaptad Shaileshwari Gold Cup 2079 football tournament will be organized to expose the health, sports, cultural, tourism management and industrial commercialization of Doti district and make the economic situation sustainable and strong," said Mr. Janmat Bahadur Karki, head of Shree Bhairav Prasad brigade.