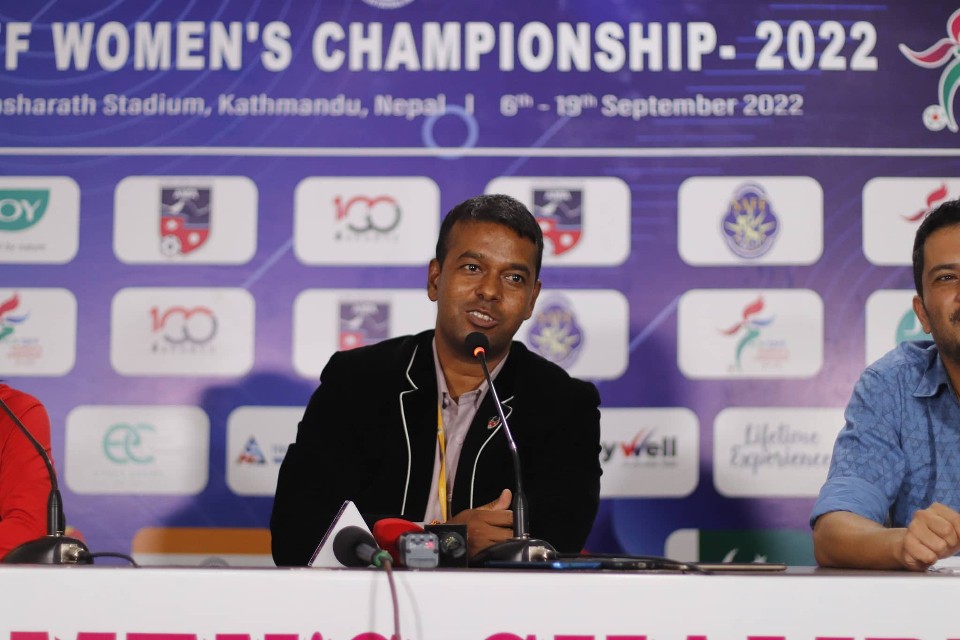 Nepal national women's team head coach Kumar Thapa has said that a 12-year long wait for Nepal to defeat India in the SAFF Women's championship is over following Nepal's 1-0 win over their neighbors in the semifinals of the tournament. Rashmi Ghising's first-half stoppage time goal was enough for Nepal to make their fifth final in the tournament's sixth edition.
Speaking at the post-match press conference after the win against India, Thapa said, "We have been waiting for this for a long time. It's been 12 years. All fans, and players all gave their effort, it's appreciated a lot. Nothing to say. We tried our best, and we did it."
The Dasharath Stadium was buzzing with more than 7,000 fans in attendance. Thapa said that they did expect this atmosphere. "Nepal against India, people love to watch this fixture, especially when we win. They must still be dancing out there. The crowd has always supported us. And I think we justified their presence with the win", said Thapa.
Thapa is currently in his second stint as the women's national team head coach. Nepal had to bow out of the semifinals of the SAFF Women's Championship during his first stint in 2016. But this time, Thapa says that the team is hungrier than ever for the title.
"I am not a fortune teller, but we will try our best. They are a good, young team. We are hungry for the title, and I think they are the same. I think the best two teams are in the final. We will give a good fight."
Nepal will face Bangladesh in the SAFF Women's Championship final on September 19, 5:30 PM. This will be Nepal's fifth final, while Bangladesh will play their second final. Whoever wins, a new champion will be crowned in South Asia.