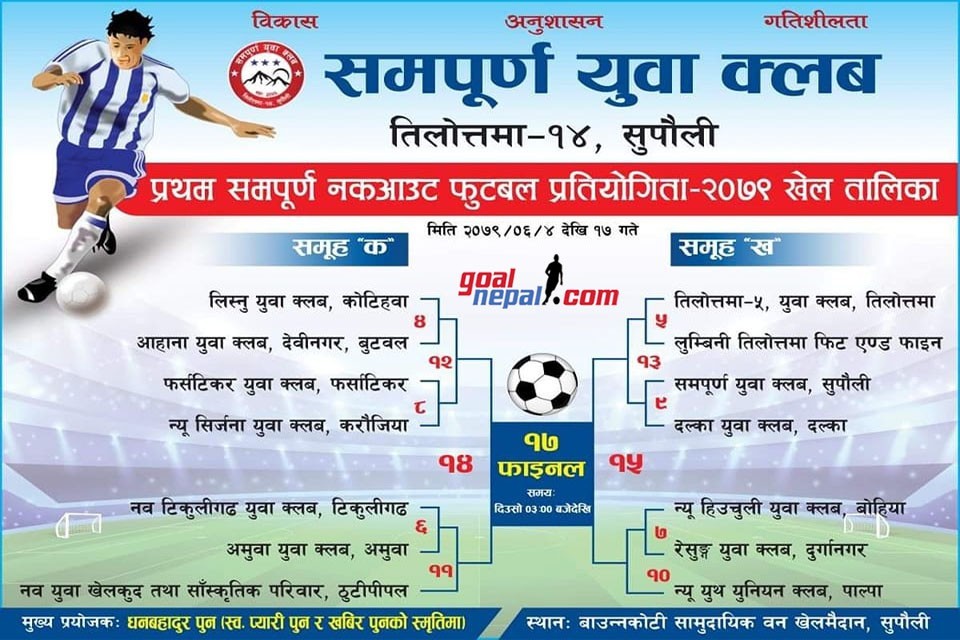 As the football season enters, the atmosphere of the football competition in Rupandehi also heats up. Sampurna Youth Club, Tilottama-14 Supauli will organize Khabir Pun and Pyari Memorial First Sampurna Cup open football tournament.
Jhavilal Thapa, the host club president, informed that all the preparations for the tournament, which will be held from Ashoj 4 to 17, have been completed. He said that although this is the first edition organized by the club, they are working diligently to make the competition a success.
Publicity Coordinator Rabi Aryal said that a total of 14 teams are participating in the competition to be held at Baunkoti Community Forest Playground in Supauli. According to Aryal, with the expectation for the tournament to be more exciting, only limited clubs will be ivolved.
The main sponsor of the competition is Dhan Bahadur Pun. The winner sof the competition will receive Rs. 50,000 in cash along with the title, while the runners-up will receive Rs. 30,000. Similarly, sports coordinator Prem Pun informed that prizes have been arranged for other individual categories as well.