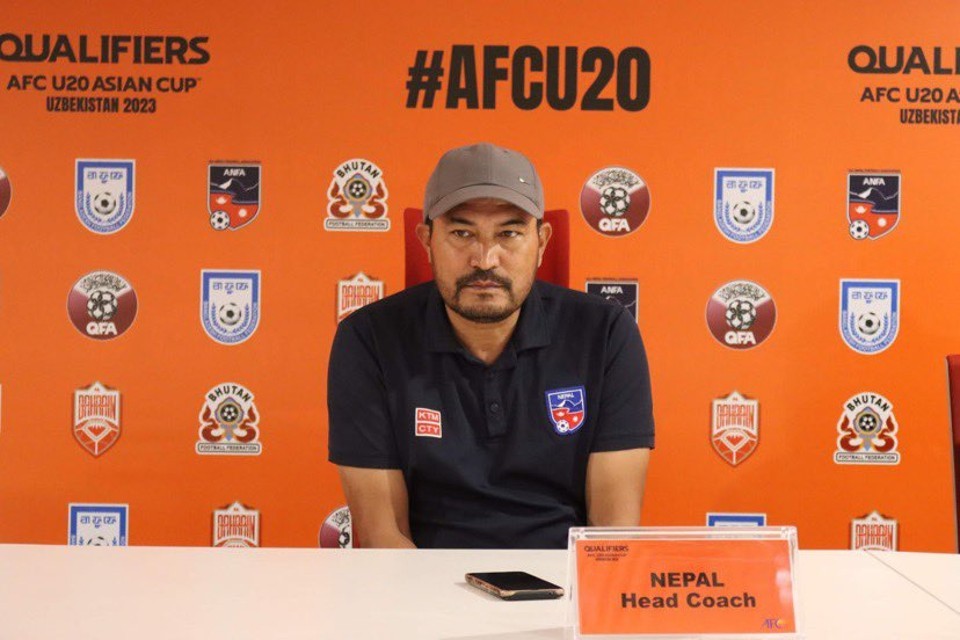 Nepal U-20 national football team coach Meghraj KC has said that the defeat against Bhutan in the AFC U-20 Championship is unacceptable. Nepal suffered a surprise 2-0 defeat to Bhutan U-20 in last night's opening match of the AFC U-20 Asian Cup
"Following the results of today's game, Nepal cannot possibly accept falling to Bhutan. We have also struggled to accept it", said Meghraj KC. "We just landed in Bahrain. Given the time and weather, we were unable to get wet. Several players also got sick. It appeared as though the players lacked all their energy."
KC also added that the team could not acclimate to the time-zone differences to Nepal in a single day. "We trained yesterday evening. In Nepali time, we were outside till around two in the morning. We could not match the time in a single day, " KC asserted.
"Overall, more so than that, we must accept that we were defeated by Bhutan. Bhutan arrived ten days ago to get used to these conditions while we were here a couple of days ago", KC said about Nepal's late arrival.
Alongside Nepal and Bhutan, Qatar, Bahrain and Bangladesh make up group B of the qualifiers. Nepal will later take on Qatar on September 12. Nepal will play against Bahrain on September 14 and Bangladesh on September 18.
All the group winners and the five best second-placed teams from the ten groups participating in the qualifiers will advance to the AFC U-20 Asian Cup in Uzbekistan next year.