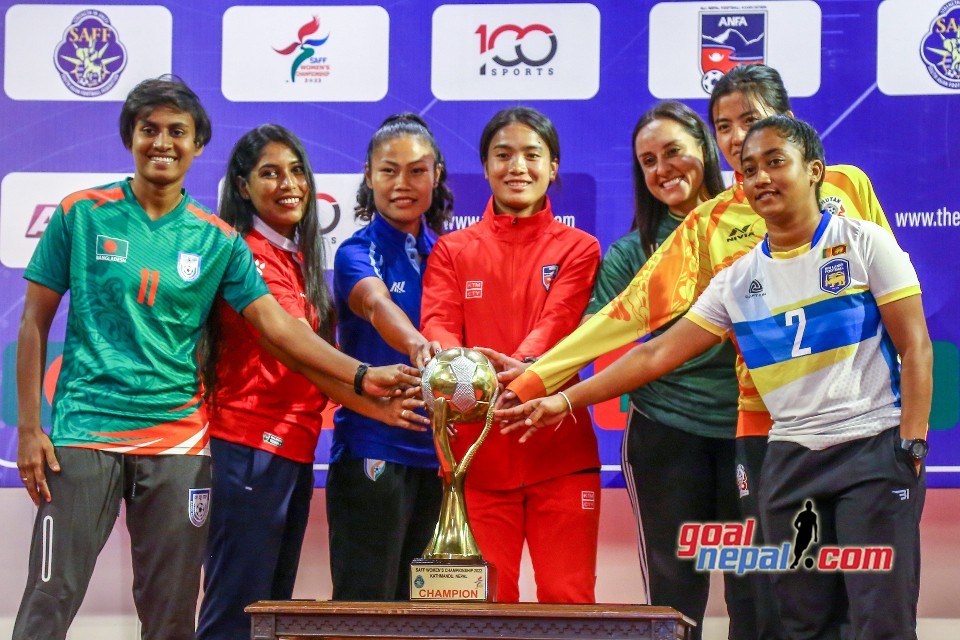 On the second day of the tournament, two group A encounters are set to be played in the SAFF Women's Championship.
Pakistan will be making their return to international football after eight long years as they take on their neighbors India to start their campaign. The two rivals will take the field at 1 PM at the Dasharath Stadium in Kathmandu.
Speaking at the press conference on Monday, Pakistan captain Maria Khan expressed her happiness on making the return to international football. She also said that the feeling inside the Pakistani camp is very positive and that they want to play good football and give their best.
The Pakistani team has players playing in foreign leagues and staying abroad. Head coach Adil Rizki said that although the team was prepared in a short time, they are ready for the tournament. He also said the Pakistan team is much better than before and ready for the competition.
"We had prepared a team in a short time. We are ready for the competition. The present team is unlike the Pakistan team that was seen eight years ago, said Rizki.
Five-time champions India are confident of the title this time as well. Head coach Suren Chhetri said they have prepared well and are confident of winning the title again. On the other hand, captain Ashalata Devi said that the five-time champions came with the courage to become champions again.
In the other group match, the Maldives and Sri Lanka will lock horns under lights at 5:30 PM.
Maldives, which is in a strong group, has a big challenge ahead of them. However, the head coach Ahmed Sharif said that they are ready for the challenge that lies ahead. On the other hand, captain Liza said that even though they are in a group with strong teams like India and Pakistan, they are working hard to showcase the best possible football in the tournament.
Their opponents Sri Lanka are also looking to keep their struggles at home aside and do the best they can.
Yesterday, Nepal registered a 4-0 win over Bhutan to start their campaign on a high. Seven South Asian nations, including Nepal, are scheduled to compete in the tournament.