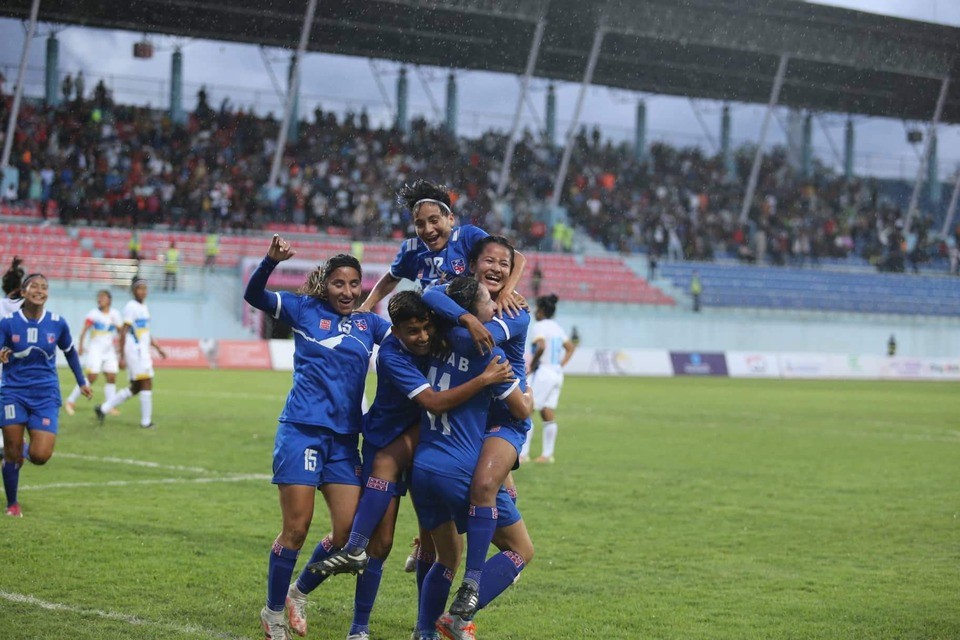 Nepal have entered the semifinals of the SAFF Women's Championship as the group winners. Nepal beat Sri Lanka 6-0 in the final group B match at the Dasharath Stadium to make it into the final four as the group winners. Nepal only needed a point from the match to finish at the top of the group.
Nepal defeated Sri Lanka thanks to a brace from Amisha Karki and a goal each from Rashmi Kumari Ghising, Saru Limbu, Amrita Jaishi and Dipa Shahi.
Nepal were without star striker Sabitra Bhandari after she was diagnosed with dengue.
In the final group B clash in the tournament, Nepal were on the front foot for the entire match. Nepal took the lead in the match in the 10th minute. Rashmi Kumari Ghising headed the ball into the back of the net off a Hira Kumari Bhujel cross from the left flank.
Nepal doubled the lead just a minute later. Punam Jargha Magar's cross from the right was headed into the goal by Saru Limbu.
And just six minutes later, Amrita Jaishi gave Nepal a 3-0 lead. Amrita was unmarked inside the box, who then guided an Anita Basnet corner into the net.
Nepal went four goals up towards the end of the half. Dipa Shahi tapped the rebound off her shot with ease after the corner kick by Anita Basnet ricocheted to her inside the six yard box. The first half ended 4-0.
Nepal continued their domination in the second half but had to wait until the 76th minute to add another goal. Substitute Amisha Karki chipped the ball over the Sri Lankan goalkeeper Weerasinghe to take the scoreline to 5-0. Amisha then finished off a one on one opportunity in the third minute of stoppage time by going around the goalkeeper to round off a dominating 6-0.
Nepal will face either India or Bangladesh in the semifinals. India will face Bangladesh in Group A tomorrow. The result of that match will decide Nepal's semifinal opponents.
Seven teams are participating in the SAFF Women's Championship being held for the first time in Kathmandu.
Nepal Vs Bangladesh - 2nd Friendly Match Highlights