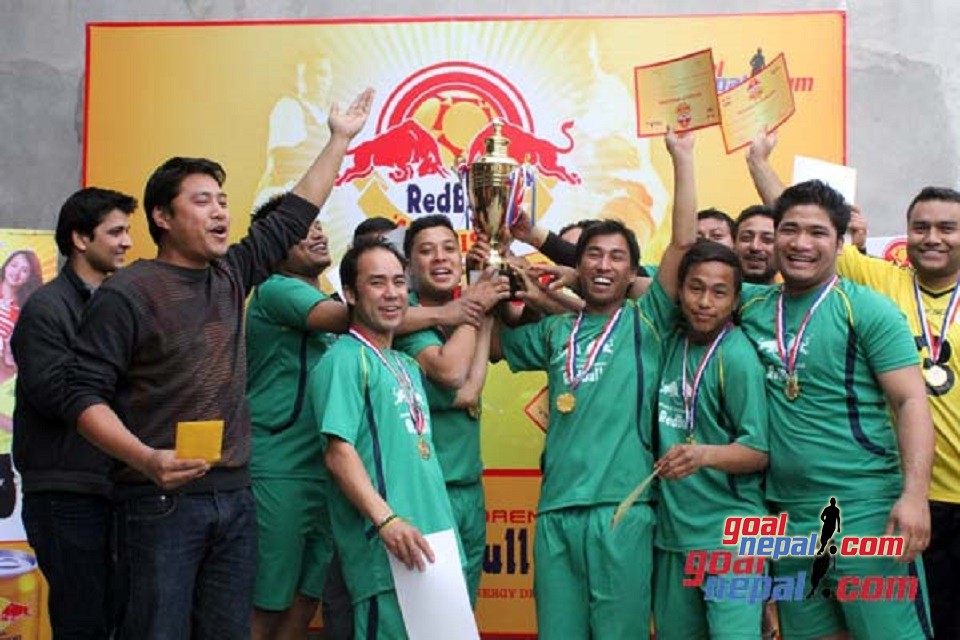 Sankata Loyals won the title of RedBull Super Six Fans Cup on Wednesday.

Sankata Loyals hammered Armed Boys 9-4 in the final match played at X-cel Recreational Centre, Baluwatar.
Sankata Loyals beat We are Stars 7-4 in the semifinal match.
Armed Boys defeated Cops Rulz 4-2 in another semifinal match.
Fans team of the on-going Martyrs Memorial RedBull Super Six League - We are Stars( Three Star Club Fans), MMC Forever(MMC Fans), Sankata Loyals (Sankata Club Fans), White Lions Roar ( Machhindra FC fans), Cops Rulz (NPC fans) and Armed Boys (APF fans) - participated in the Championship.
We are Stars, Armed Boys and White Lions Roar were grouped in group A while MMC Forever, Sankata Loyals, and Cops Rulz were in group B.
The one-day tournament was played in league cum knock out basis.
The winners got Rs.10,000 along with a trophy, medal and certificates. The runners-up team received half of the winning amount along with a trophy, medals and certificates. Rujan Tuladhar of Sankata scored 12 goals in the whole one day tournament and was awarded as the best player receiving six packs of Redbull.
ANFA CEO Indraman Tuladhar, Gorkha Brewery Limited Senior Brand Manager Rojan Amatya, Brand Executive Subodh Sharma, X-Cel Recreation Centre MD Bikram Poudel distributed prizes to the winners.
Machhindra FC Coaches, VP and players, Three Star Club coach and players and NPC goalkeeper Ritesh Thapa, MMC striker Deepak Rai & goalie Bishal Shrestha, APF players, Kovid Karki and Sudeep Sikhrakar came to the venue to support their fans.
The championship was organized jointly by www.goalnepal.com and RedBull to develop fan culture and establish brotherhood among Nepalese football fans.
RedBull energy drink sponsored the event.