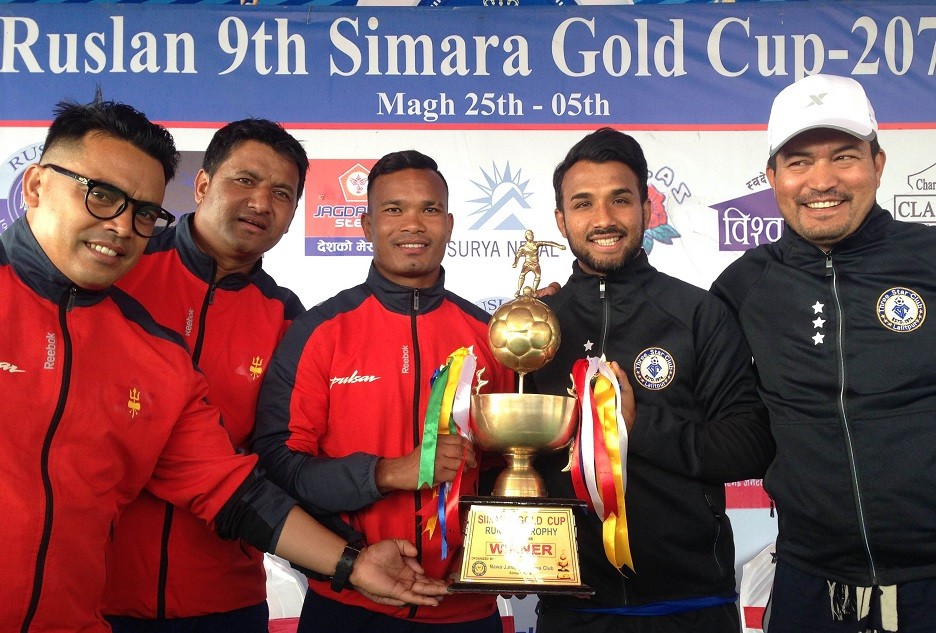 Season's best teams are fighting it again. Nepal Army is playing against Ruslan Three Star Club in the final match of Ruslan 9th Simara gold cup on Saturday.
This is Three Star club's first final play whereas Nepal Army is playing in the final match for the second time in the tournament's history. Army men had lifted the title in 2071 B.S.
TSC coach Megh Raj KC:
"We are playing to win the title. We are least bothered about the opponent team. We want to work hard and win the title.
"Players are tired due to hectic tournament schedule but we have good players in the bench. We must work hard to win the title".
Skipper Nirajan Khadka:

We are positive and optimistic too. Army are a good side but we want to give our best and win the match.
Nepal Army coach: Nabin Neupane:
"It is 50-50 affair. We must utilize goal scoring chances to win the match".
Army skipper Bharat Khawas:
We are here (in Simara) to win the title. Players are motivated and I am confident we can win the title.
Army have already won four major titles (Bishal Memorial, 2nd Satashi gold cup, 3rd Kakarvitta gold cup and Far West Khaptad gold cup) this season whereas Stars have won two trophies (Madan Bhandari memorial Itahari gold cup & 20th RedBull Budha Subba gold cup).
This season:
Nepal Army had defeated Three Star in the quarterfinal match of Far West Khaptad gold cup 2-1.
Three Star had defeated Nepal Army 5-3 (PSO) in the semifinal match of Itahari gold cup.
Prize Money:
The champions will get Rs 5,51,000. Runners up team will get half of that amount.
Nawa Jana Jagriti yuwa club is organizing the championship.
5th Jhapa Gold Cup: Tribhuwan Army FC Vs MFC Darjeeling - MATCH HIGHLIGHTS