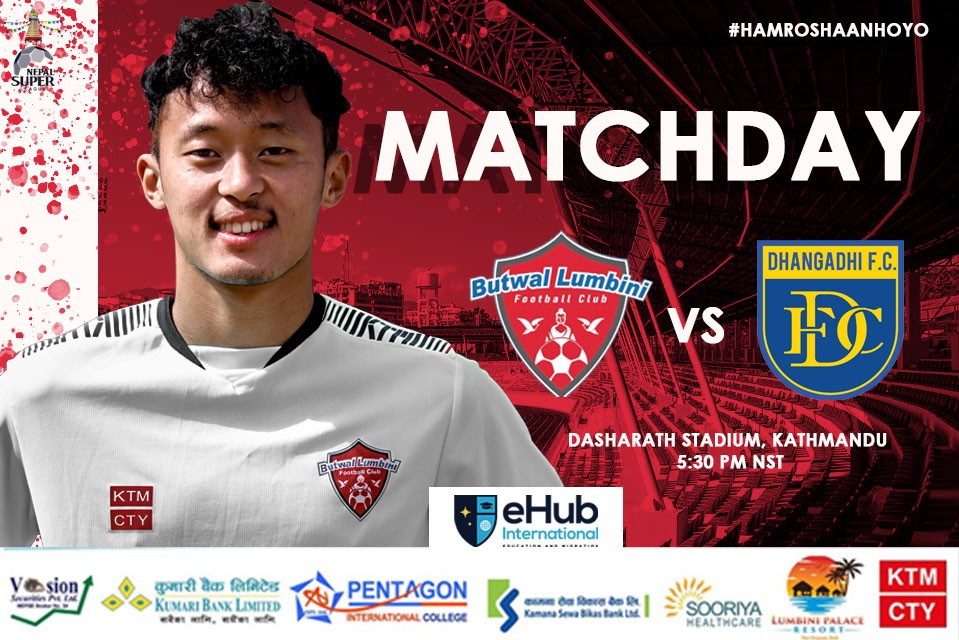 Butwal Lumbini FC are in a must win game against front runner Dhangadi FC in the Nepal Super Cup Saturday.

Stakes are high for Butwal Lumbini as they grimly battle to stay in the tournament.They are desperately vying for one of the playoff spots. Apparently they are under intense pressure to perform well and strike it rich. At all costs, they
have to prevail over formidable Dhangadi FC in order to get the job done.

They need a solid collective effort,coupled with individual brilliance,determination and resilience to win at any cost.
Strong contender Dhangadi FC stands on their way and poses a significant threat to their playoff hopes.Surely, it will not be easy getting the better of them.

Butwal Lumbini made a promising start to the tournament and looked like a strong contender. However, they fizzled out midway through, pushing themselves into a challenging position. They will require a Herculean effort against Dhangadhi FC to overcome the challenge placed before them.

Even more importantly, they have to be mentally and physically prepared for the challenge, regain form and play to their potential.

Since Butwal Lumbini are in a must win situation, their only option is to play all -out attack.They have to give everything they have for the decisive game.

They must take to the pitch with a winning mentality and gusto.They have to believe in themselves and play with confidence, extra drive and vigor. Upping the ante on performance in every stage of the game will be necessary to set the tempo of the game for Butwal Lumbini.

Having already secured a playoff spot, Dhangadi FC starting eleven may not include a few key players. They might be rested for the playoff game.Don't be surprised if they take a casual approach to the game. Just a guess.

Should that be the case, Butwal Lumbini benefits immensely.They have to show consistency and hunger for success in their performance.
And they must cash in on every goal scoring opportunity. I will say though, they have the potential to overcome the odds and prove themselves.

Are we really in for a big surprise? Anything is possible. We cannot rule out any possibility in sports. However, we will have to wait and see, I am keeping my fingers crossed.

By Sushil Thapa, Fairfax,VA, USA