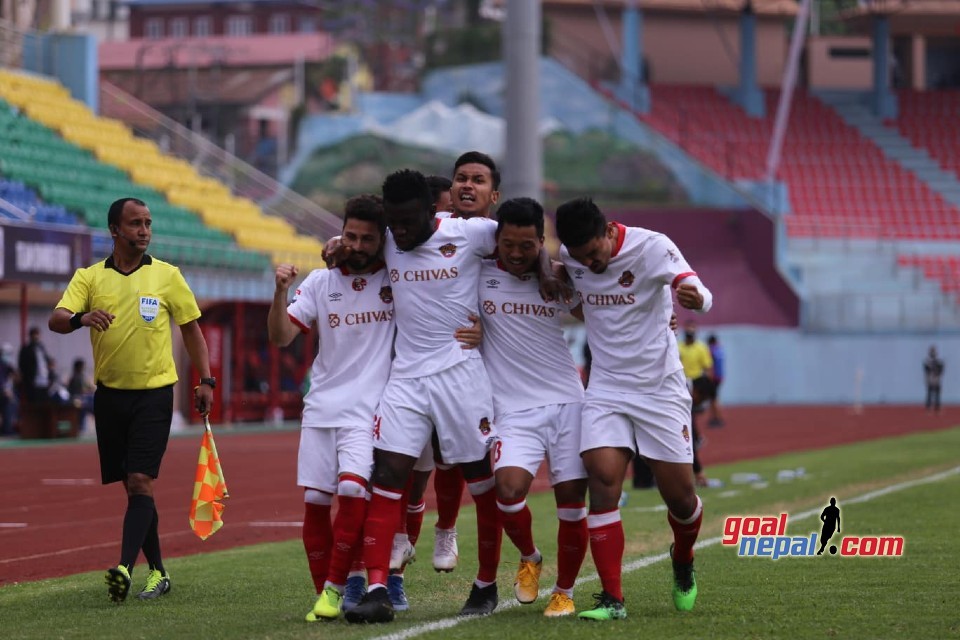 Biratnagar City FC and Lalitpur City FC gear up for the crucial face off in the Nepal Super League at Dashrath Stadium in Kathmandu Saturday.

With two remaining playoff spots up for grabs,the outfits from Biratnagar and Lalitpur are locked in an intense battle for ascendancy.

The victory achieved by Pokhara Thunders over FC Chitwan has thrown the tournament wide open with a new twist.

It has added intensity,suspense, spice,intrigue and drama to Saturday's fixtures. The million dollar question is,which way the pendulum will swing? I could not tell you right now.

The setup is perfect for a day of compelling,nail biting, engrossing and action packed football. It is going to keep us on the edge of our seat from start to finish.

Additional pressure has piled on Biratnagar City, Lalitpur City and Butwal Lumbini, contenders for playoffs. At this point, the picture is still murky and hard to say which two teams advances to the knockout stage, One thing that we all can agree on, the three teams have to win to keep their playoffs hope alive.

Biratnagar City does have a point advantage over Lalitpur City but that does not guarantee them a playoff spot.
The truth is that they cannot afford to concede the match.Whether a draw helps them or not is not clear yet. It all depends on how the other playoff chasers perform .

They go into the match, following a tough loss to Kathmandu Rayzrs.My concern is players match fitness.

Having played a grueling ,fast paced, energy sapping end to end game against the Kathmandu outfit, they may lack the physical fitness for such an important and crucial showdown against Lalitpur City.

They might still be carrying fatigue and wobbly legs.Whether they are prepared or not, mentally and physically, for the game with similar intensity, tempo and challenge is yet to be seen. Given the importance of the match,another explosive, bruising duel is in the offing. Biratnagar City must play cautious attacking football.
We did see their repertoire of offensive skills against Kathmandu Rayzrs but were vulnerable to counter attacks. The two goal lead they squandered to Kathmandu Rayzrs speaks for itself. With that said,Biratnagar has to play with the same gutso, confidence level, rhythm, pace,momentum,urgency and tactical approach.

The defense must do a much better job defending. At no point of the game, they can allow mediocrity and lethargy creep into their performance and get caught off guard, over and over, like in the last match. Defensive performance will be key to their success.

On the other hand, Lalitpur City faces a massive challenge. For them the route to the playoffs is nothing less than an outright victory.

A defeat or draw eventually ends their Nepal Super League campaign. They have to play an all out attacking football to unsettle the opponent from the word go. It is increasingly important for Lalitpur City to maintain a fast, furious pace in the entire match to keep the opposition under constant pressure.

They can take a cue from Kathmandu Rayzrs and employ a similar game plan. Players must rise to the occasion, keep their energy, confidence and aggression level high. Poor finish and inability to convert scoring opportunities have been their Achilles heel.They have to show clinical finish and cannot afford to squander scoring chances.

Otherwise,it will only compound their woes further and possibly cost them the match as well. The defense cannot relax and get sloppy against a team like Biratnagar City that can score when chances come by.

They stand a chance to win provided they play like a well -oiled machine and not let scoring chances go begging.

An absorbing, nail biting and intriguing duel is in the making. I still think Biratnagar City had a slight edge over Lalitpur City FC.

By Sushil Thapa, Fairfax, USA