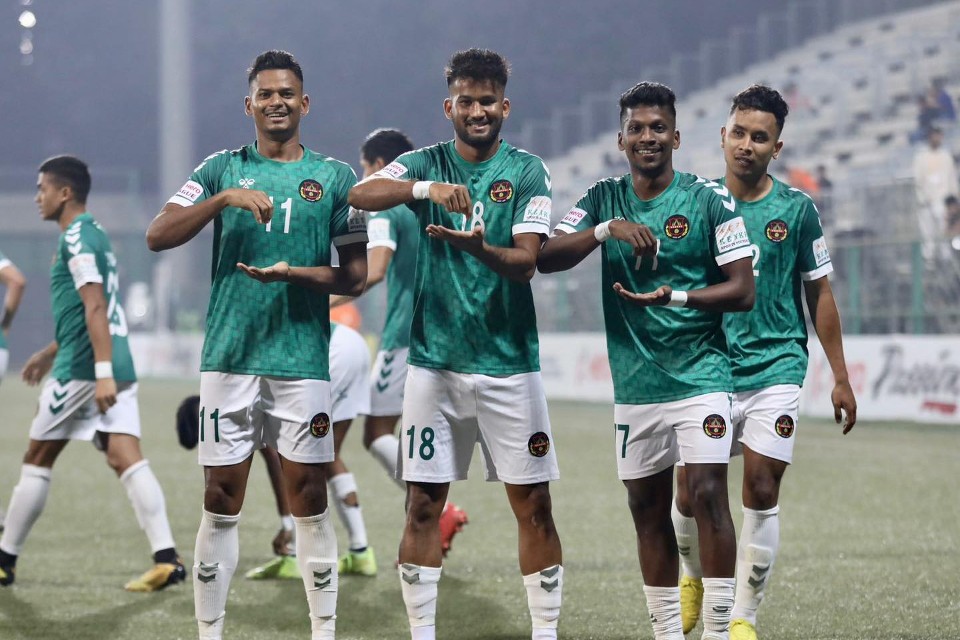 Kathmandu (GoalNepal) - Kiran Chemjong's RoundGlass Punjab FC and Anjan Bista's Kenkre FC have played an exciting 3-3 draw in the I-League. On Wednesday, the six-goal thriller was played at the Cooperage Ground, home of Kenkre FC.
Relegation fighters Kenkre FC started the match with two early goals. Ranjeet Pandre and Aman Gaikwad put their team two up with a goal each in the second and fifth minutes of the match. Both goals were assisted by Nepal's star forward, Anjan Bista, who was playing his second match with the side.
But Punjab fought back to return three goals of their own. Chencho Gyeltshen, Naocha Singh and prolific forward Luka Majcen added a goal each to turn the scoreline around and put their team 3-2 up inside 40 minutes. But just a minute later, Ranjeet Pandre scored for Kenkre to take the score to 3-3.
Kenkre had to play most of the second-half man down as Suraj Jeet Singh Negi was sent off in the 53rd minute of the match. Punjab had the majority of the possession and kept pressurizing the Kenkre goal but the Mumbai-based side held their nerves to come away with a point.
This draw has harmed Punjab's quest for the league title while it has boosted Kenkre's hopes of staying in the league. Punjab have 30 points from 14 matches and sit at the top of the table while Kenkre are 11th with 14 points from 15 matches.
Punjab will face Sudeva Delhi on Sunday, while Kenkre will face Neroca FC next Wednesday.
The league winners will get promoted to next season's Indian Super League.
Anjan Bista: Feel Sad Not To Play In SAFF Final