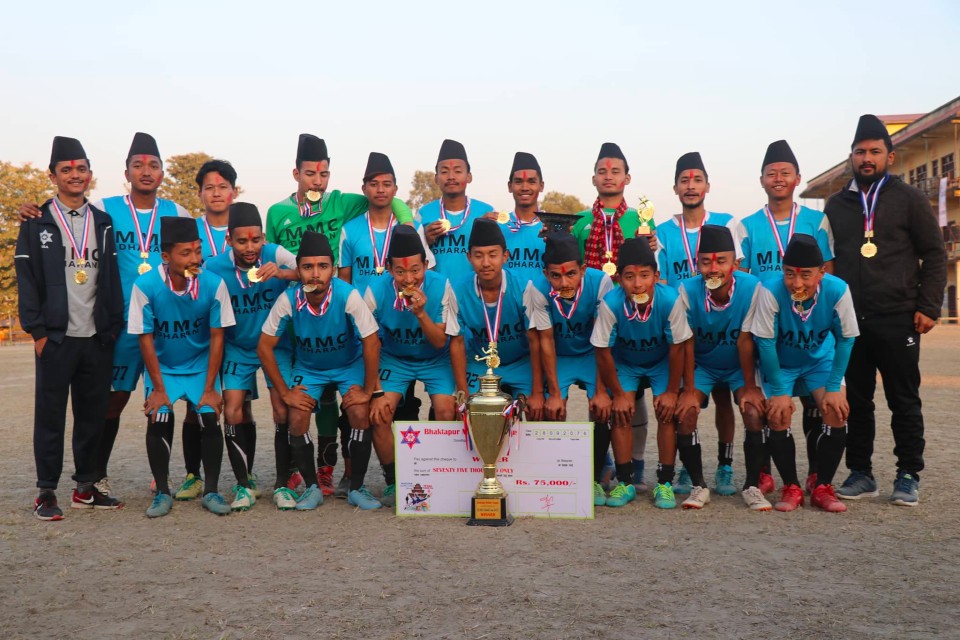 MMC Dharan has lifted the title of TU BBA cup football tournament in Bhaktapur.

MMC Dharan defeated Sainik Awasiya 5-3 on penalties to win the title of TU BBA Cup football tournament in Bhaktapur.

Both teams played 0-0 draw in regulation time before inviting a spot kick battle.

Rohit Bhujel became the player of the final match.

Best Goal keeper: Rohit Bhujel(MMC)
Best Defender: Nabin Thapa(Sainik)
Best Midfielder: Padam Bahadur Bista(MMC)
Best Striker: Aushat Thapa(Sainik)
Highest goal Scorer: Aushat Thapa (Sainik) and Dhiraj KC(People's Campus) - 6 goals each
Fair Play Team: K&K College
All of them got Nrs 4000 each.

Best Player: Sudip Gurung (MMC). He received Nrs 7000 cash.

Winner MMC Dharan was awarded with Rs 75000 with medal and trophy while Sainik Awasiya Mahabidhyalaya received Rs 35000 with medal and trophy.

Bhaktapur Multiple Campus organized the championship.