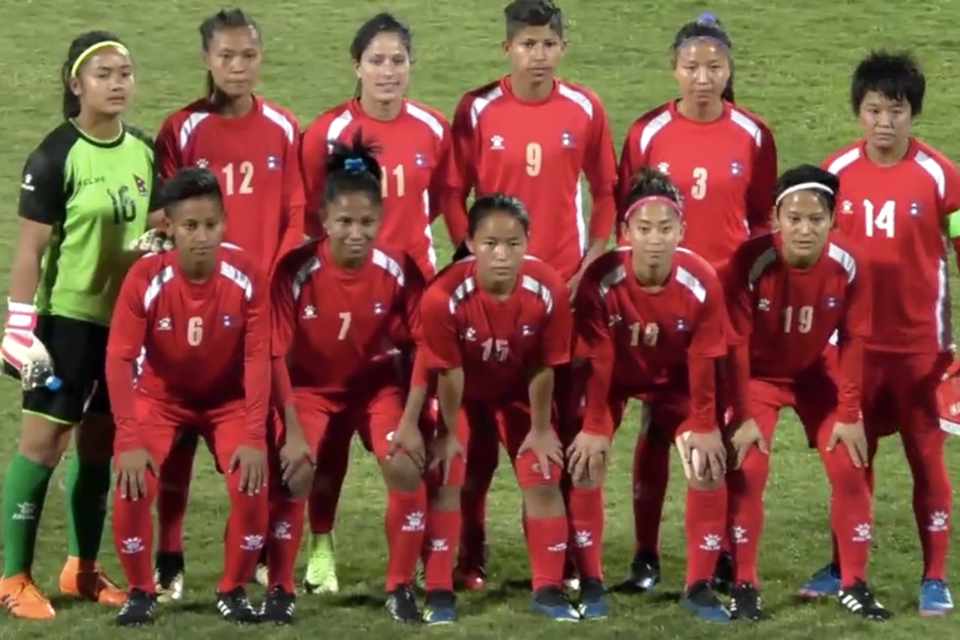 Nepal women's team defeated India women's team 2-1 in a must win match played at Kalinga stadium, Bhubaneshowr.

This is how the match went on:

1' Match kicks off

2' Nepal are in red shirt, India are in blue.

5' GOAL.GOAL.GOAAAAAAAAAALLL !! Sabitra Bhandari outruns the defender and places it to the far post. Nepal go 1-0 up against INDIA.

7' GOAL.GOAl.GOAL ! Nepal are 2-0 up. Again Sabitra Bhandari. Indian goalie Aditi Chauhan gifts a goal to Nepal.

10' Nepal 2 India 0.

16' Confident Nepal today. Nepal lost 3-0 to Myanmar in its opening match.

18' Nepal coach Hari Khadka is in touchline, instructing his players.

25' With 2-0 up, Cheli look confident but Indian side hasn't given up so easily.

30' Half an hour mark, Nepal 2 India 0.

35' Nepal needs to press more. What's your final prediction? COMMENT BELOW.

40' Five minutes to go for a break. Nepal 2 India 0.

HALF TIME. Stick with us.

46' Second half starts...
57' Sandhiya replaces Anju Tamang - INDIA

65' India looking for a goal. Nepalese defenders are showing their best game.

70' Nepal women's team coach Hari Khadka targets SAFF Women's championship not Hero Women's Cup. Nepal will be in fray for the final if they win today's match against India. They will play against Iran on Feb 13. Myanmar beats Iran 2-0 earlier this afternoon.

75' Time is ticking away. Impressive defending from brave Cheli.

84' GOAL! India cuts the deficit. India 1 Nepal 2. Ratanbala scores for INDIA.
85' Five minutes to go.

FULL TIME. What a win for Nepal women's team. Congratulations !