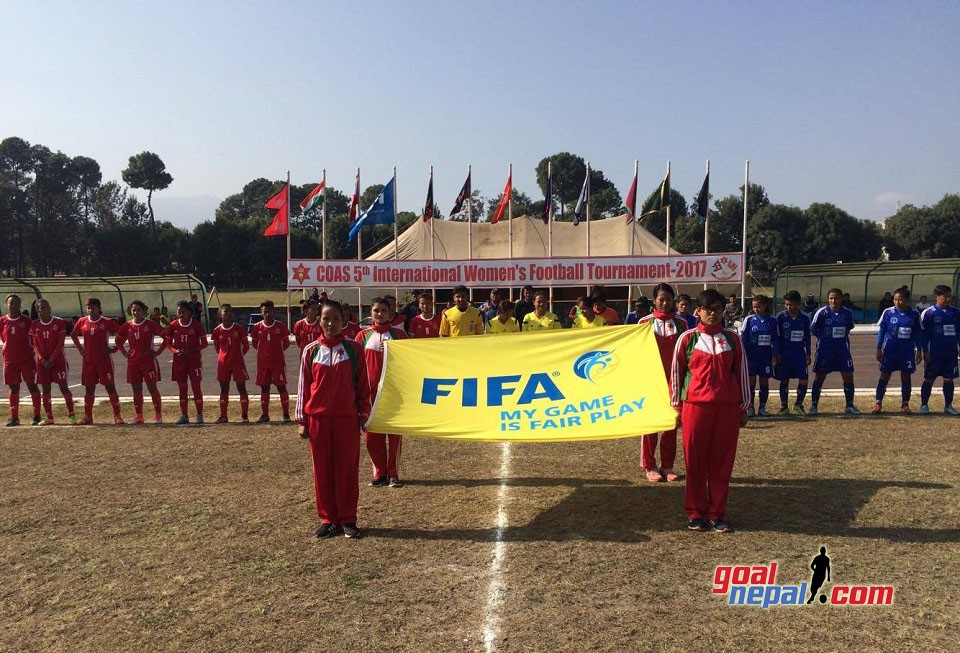 APF women's team defeated NPC Women's team 4-3 on penalties to enter final of of CoAS 5th Women's championship.

The match was tied at 2-2 before spot kick battle was invited. APF will meet Nepal Army in the final on November 23 at Army HQ, Bhadrakali.
This is how the match went on:
1' Peeep
26' GOAL! Sabitra Bhandari scores for APF.
45+3' GOAL ! Sabitra Bhandari scores again for APF.
HALF TIME
54' GOAL! Nirmala BK scores for NPC.
76' GOAL ! Niru Thapa scores for NPC.
Regulation time ends. 15-15 of extra time.
Penalty shootout. APF wins the match 4-3.

APF goalie Anjila became the man of the match. She received Rs 5,000 cash.
NPC: Namita Dali (C), Ghim Kumari Gurung, Amrita Jaisi, Menuka Giri, Mani Gurung, Yashodha Lama, Rupa Magar, Srijana Khadka, Dipa Neupane, Niru Thapa, Nirmala BK
APF: Anjila (GK), Renuka Nagarkoti, Sajana Rana (C), Sabitra Bhandari, Hira Bhujel, Man Maya, Nisha Thokar, Saru Limbu, Anita Basnet, Anjali Yonjan, Gita Rana
Friendly Match: Nepal U15 Girls Team Vs Bhutan U15 Girls