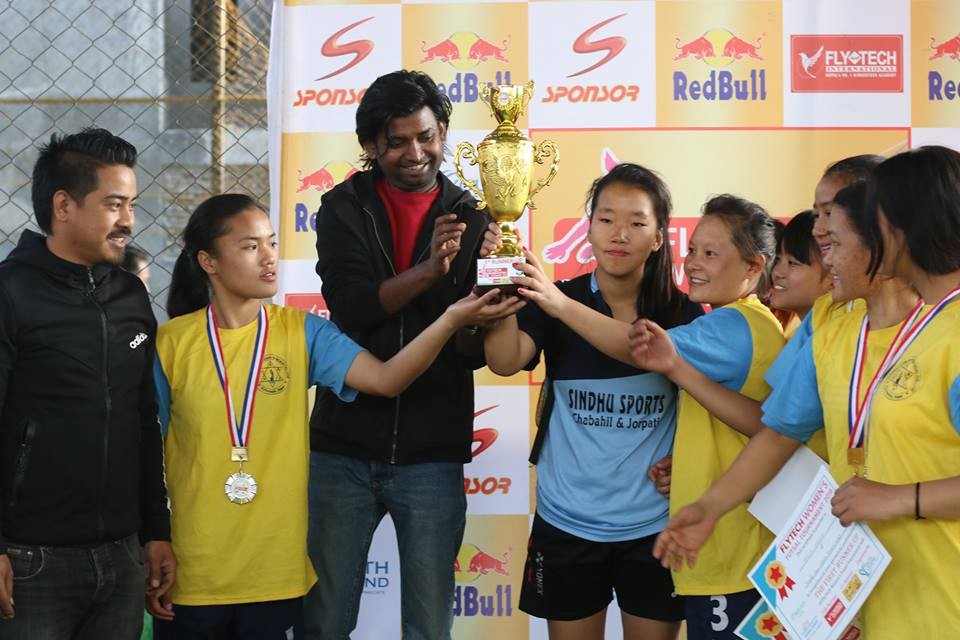 Seoul Insititute has won Flytech Women's Futsal Tournament 2018 beating Pasang Lamhu Sherpa College 2-0. They scored both goals during added extra time.
The winner, Seoul Institute and runner-up, Pasang Lhamu Sherpa college got trophies, medals, and certificate. Shristy Lama from Chhahari Shikshya Sadan was awarded with the Best Player Award. The highest goal scorer award was awarded to Sunakala Rai of Pasang Lhamu Sherpa College.
The tournament was commenced from group stage and progressed to semifinals and final.
This is the first women's tournament where young girls and women from diverse background came together to compete against each other through sports. Most of the women players played for the first time and believed that this was a major step in their life as they challenged themselves to be the part of a futsal tournament which is usually known as men's sport. They also mentioned that it helped to boost their self esteem and confidence.
Eight teams from different companies, institution, colleges and school participated in the tournament.
"We are very happy that we could bring girls and women of diverse group at one group in the form of this sport. For many it was the first time they played football and there were also few girls who were very passionate about the futsal. After the feedback we received after the tournament, we are thrilled and are planning to do more such events in the future.", said the organizers.
The event was supported by Flytech International and Red Bull.
Youth Legend is a social enterprise established in May 2014 with the purpose of creating valuable impact in the lives of young people around the world works on 3 core areas – International Exchange, Youth Empowerment and Psychosocial wellbeing.
Youth Legend hosted one day Flytech Women's Futsal Tournament 2018, with the motive of empowering women through sports and bringing women leaders and aspiring women leaders of different organizations and institutions together.
Friendly Match: Nepal U15 Girls Team Vs Bhutan U15 Girls