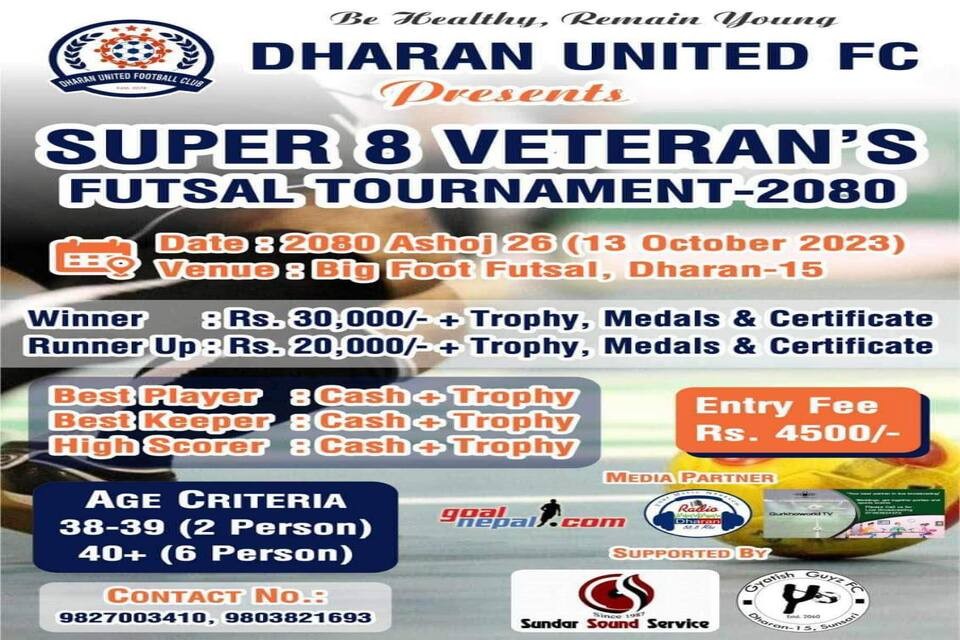 Futsal Tournament Excitement is brewing as Dharan United FC announces the eagerly awaited Super 8 Veterans 2080 Futsal Tournament, slated for October 13, 2023.

The battleground for this thrilling competition is none other than the renowned Big Foot Futsal in Dharan 15. Incentives to perform at one's best are abundant in this tournament.

The victors will not only grasp the championship title but also a substantial reward of NPR 30,000, a gleaming trophy, medals, and certificates to commemorate their achievement. Meanwhile, the runner-up team will not leave empty-handed, receiving NPR 20,000, an elegant trophy, medals, and certificates.

Individual brilliance will also shine bright, with special awards for the Best Player, Best Keeper, and High Scorer, each receiving cash prizes and trophies in recognition of their exceptional contributions. To partake in this exciting event, teams must pay a modest entry fee of NPR 4,500.

The tournament's age criteria further level the playing field, inviting two individuals aged 38-39 and a group of six players aged 40 and above to showcase their skills and experience.