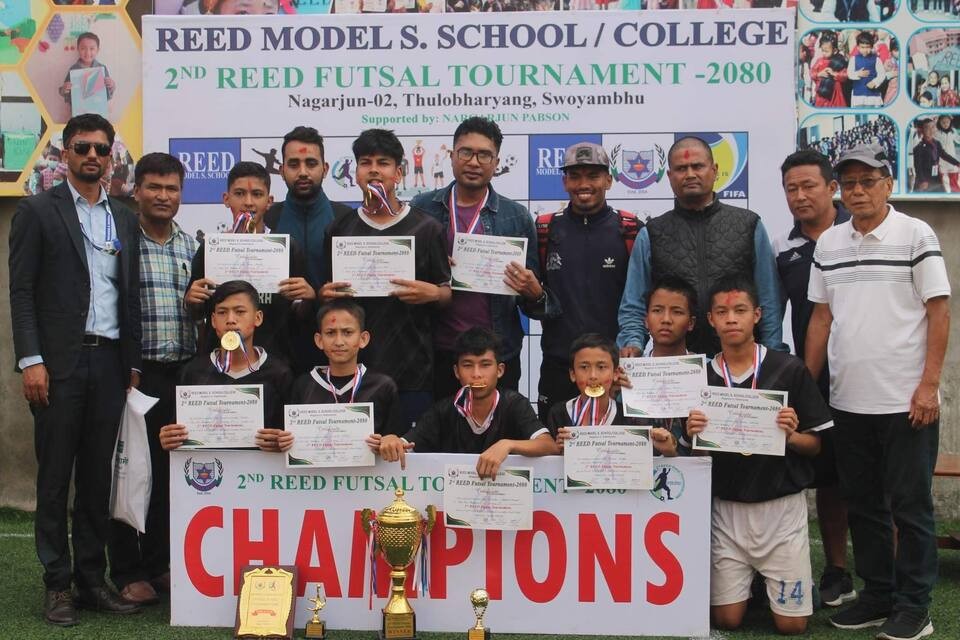 In a Display of Extraordinary Talent and Sportsmanship, the 2nd Reed Futsal Tournament 2080 Takes Center Stage The 2nd Reed Futsal Tournament 2080, a two-day extravaganza of skill and sportsmanship, unfolded its brilliance on the 5th and 6th of Ashwin 2080 at the esteemed Reed Model School/College.

The event was graced by distinguished dignitaries, with Prof. Dr. Shankar Kumar Shrestha from Tribhuvan University serving as the esteemed Chief Guest and Basudev Ghimire, Chairman of Nagarjun Pabson, holding the position of Special Guest.

In a field of fierce competition and electrifying matches, New Era Academy emerged as the champions of the tournament, demonstrating unparalleled skill and unwavering determination. Gajurmukhi Secondary School secured the 1st Runner-up position, while Arya Academy impressed to claim the 2nd Runner-up spot, showcasing exceptional futsal prowess. The spirit of fair play was honored as Srijana Gyansagar Secondary School received the Fair Play Award.

Process Shrestha from New Era Academy was hailed as the Best Coach, a testament to his coaching brilliance that contributed significantly to his team's success. Kavya Dangi from Nirvana Academy stood out as the Best Player of the tournament, captivating spectators with her exceptional performance. In the goal-scoring department, Deepak Tamang, representing New Era Academy, achieved the title of Highest Scorer.

Meanwhile, Bishma Tamang from Sacred Heart demonstrated outstanding goalkeeping skills, earning the prestigious title of Best Goalkeeper. The 2nd Reed Futsal Tournament 2080 was not just about remarkable futsal skills; it was a celebration of the essence of sportsmanship and teamwork. Congratulations to all the participants and winners who made this event a memorable success.