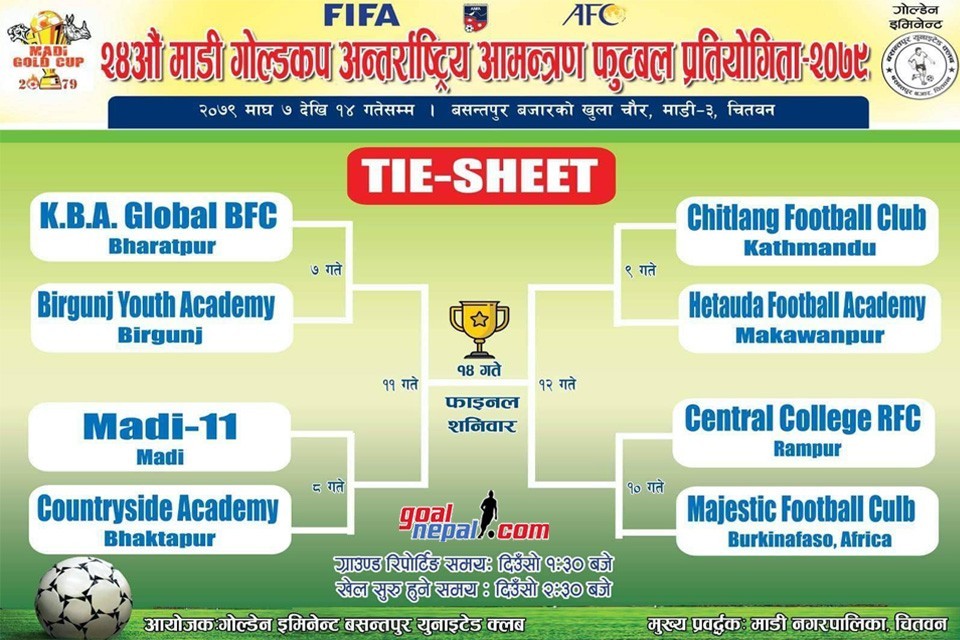 The 24th Madi Gold Cup International Invitational Football Tournament schedule, organized by Golden Eminent Basantpur United Club, Basantpur Bajar, Chitwan has been announced.
KBA Global Bharatpur FC, Bharatpur and Birgunj Youth Academy, Birgunj will meet in the opening match of the tournament which is going to be held at the playground of Basantpur Bajar located in Madi-3, Chitwan, on Magh 7th.
The final of the tournament, in which a total of eight teams will participate will be held on the 14th of Magh. The winner of the competition, which is the main promoter of Madi municipality, Chitwan, will receive a title and cash prize of three lakhs, while the runner-up will receive 1,50,000, said sports coordinator Nabin Basyal.
Similarly, coordinator Basyal informed that attractive cash prizes have been arranged for the individual category as well. Organizers estimate that it will cost around 20 lakhs to complete the competition.
GoalNepal, which is the official media partner of the tournament, will broadcast all the matches live.
Bishal Cement Nuwakot Gold Cup: Nuwakot Vs Chitwan (MATCH HIGHLIGHTS)