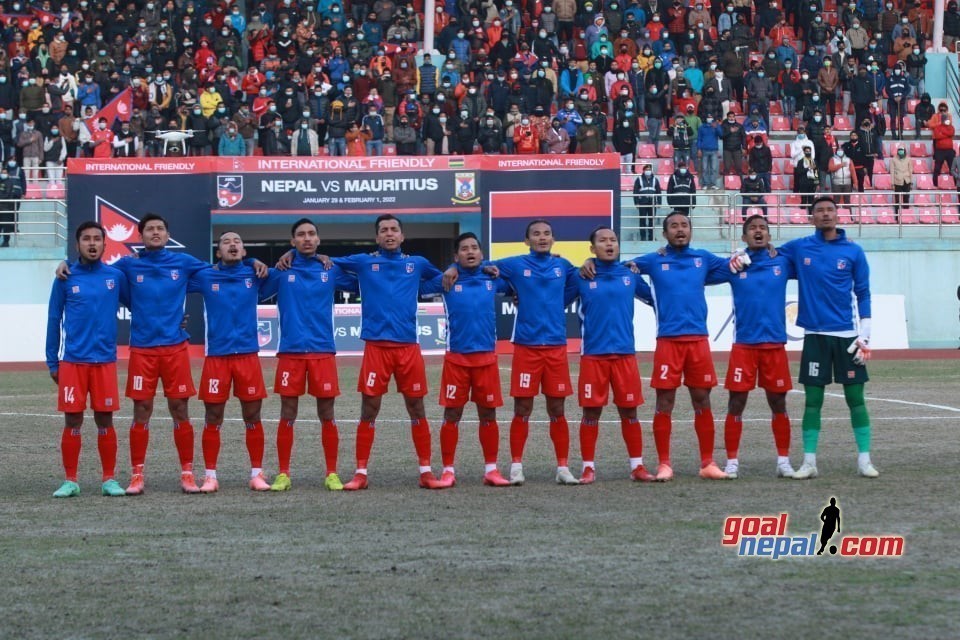 As we bid farewell to 2022, it is that time of the year again to look back at the key events of the year related to Nepal football.
The year of the World Cup did not go down well for Nepal football on and off the field.It should not surprise anyone.
There was nothing much to cheer about in regard to Nepal's performances in international competitions.
As usual,it was a repetition of poor performances and dismal results. There was no dearth of newsmakers who made headlines off the field. Overall,the football landscape remained the same as it has for decades.
Football activities returned back to normal across the country, following relaxation of COVID-19 much to everyone's relief.
Nepal's participation in international tournaments increased.
After much suspense and speculation,the most anticipated All Nepal Football Association (ANFA) election was held.
ANFA Elections
In the battle between former ANFA President Karma Tsering Sherpa and his deputy ANFA VP Pankaj Bikram Nembang,the latter emerged victorious.
It is widely believed that Nembang's electrol success was possible because of former ANFA President Ganesh Thapa's backing.
Mr. Thapa still carries considerable weight with his supporters. As a matter of fact, he has some of his backers in key positions in Mr. Nembang led ANFA.
Should Mr.Thapa attempt to interfere in policy matters and decision making,it's never going to be smooth sailing for Mr.Nembang.
To put it bluntly,Mr.Nembang finds himself in a precarious position and is left to battle the puppet image.
He needs to get the monkey off his back.
Otherwise,he will go down as a failed leader and administrator who utterly failed his duties and responsibilities.
In a conversation with online Nepali news portal " Shilapatra", senior players Ananta Tamang,Bishal Rai Anjan Bista Prakash Budathoki lambasted ANFA for sleeping at the wheel.
They accused them for getting involved in personal, petty and factional politics and ignoring their responsibilities.
Controversial Coach Mutairi departs
After Kuwaiti Abdullah Al Mutairi took over the national team of Nepal as head coach,his one and half year tenure turned out to be stormy and controversial.
He made headlines for the wrong reasons.Clearly he frequently overstepped the boundaries of his authority.
His behavior was questionable and unacceptable at times.He got into a needless confrontation with Mr. Nembang(then ANFA Vice President).
He alleged that Mr. Nembang and a few others prevented him from performing his duties.Furthermore,his unneeded spat with sports journalists did not go down well.
The 10 senior players axed from the national training camp by him was very controversial and drew considerable flak from all quarters,
He often took to Facebook making his resignation public numerous times. Also he used social media to direct his ire against ANFA officials.
The electoral success of Mr. Nembang proved the final nail in the coffin of Mutairi, thus ending his tumultuous tenure.
On the field, Nepal's second place finish in the South Asian Federation Football Championship held in Male, Maldives was his biggest achievement.He led the national team in 17 international matches, winning 5,losing 10 and drawing 2.
ANFA in search of head coach
After the departure of the Kuwaiti, the search has been for a permanent coach.Whether ANFA opts for a foreign or home grown coach hangs in suspense and yet to be seen.
A foreign or home grown coach is a subject of debate.The need of the hour is to appoint a true professional who strictly adheres to the foundation of a successful coaching practice-integrity,honesty, discipline and responsibility.
We did see two caretaker coaches Pradeep Humagain and Prabesh Katuwal in charge of the national team for friendly matches against Bangladesh and Pakistan respectively.
Footballers leaving the country on rise
A significant number of international footballers left abroad seeking a better life and secure future.
The sorry state of football,financial insecurity and career uncertainty pushed them to migrate.
This is a disturbing trend and does not bode well for Nepal football moving forward. ANFA must turn things around in order to stop the situation from going bad to worse.
Mediocre performance was the order of the day
Overall,2022 turned out to be a hugely disappointing year for the men's national teams in regional and international tournaments in terms of performances and results.
Only the women's Under-15 team got in the win column.It was a story of struggle, lackluster performance and players' failure to live up to their expectations
In the third round of the AFC Asian Cup qualifiers held in Kuwait, Nepal huffed and puffed to finish with three straight defeats , including a humiliating 0-7 thrashing at the hands of Indonesia.
Win against Pakistan,Bangladesh and Mauritius in friendly matches was of little consolation to fans
The Under-20 had a disastrous run in the SAFF U-20 championship in India and AFC Championship U-20 qualifiers in Bahrain.
In spite of two wins against Maldives and Sri Lanka, they were hammered 0-8 by India and failed to reach the final.
And in the AFC Championship, they lost all four matches to finish at the bottom. Interestingly they went down to Bhutan also.
The Under-17 turned in an inspiring performance in the SAFF U-17 championship in Sri Lanka but lost to India convincingly 0-4 in the final.
They had advanced to the final with wins over India,Sri Lanka and Bhutan in the group stage.
However, in the AFC Championship Under-17,they underperformed and went down relatively easily to Thailand,Vietnam and Chinese Taipei.
Nepal hosted the Women's SAFF Championship in Kathmandu.The home team entered the tournament with sky high expectations.
The four times runners-up looked to win the elusive title.They notched up a historical victory over arch rivals India, the first ever in the semi-final.
In the final, however, Bangladesh shattered Nepal's championship dream much to the dismay of the partisan crowd.
The success of the Under-15 in the SAFF Under-15 Women's Championship in Bangladesh was the only consolation.
NSL and A Division to resume in 2023
Nepal Super League(NSL), the first professional franchise-based club football league kicked off in 2021 amidst much fanfare.
The start of NSL was hailed a major breakthrough in Nepal football,however, the euphoria was short lived as it was hit by controversies.
And as a result,the tournament was put on indefinite hold and did not see the light of day in 2022.
The good news is that ANFA and Nepal Sports and Event Management Pvt Ltd(NSEM) have signed a new eight-year agreement for NSL.
As per the agreement, ANFA will be the sole organizer of the tournament and NSEM will provide financial support.
The second edition of NSL is expected to be organized in 2023 Besides,Martyrs Memorial 'A' Division league kicks off from March 3rd,2023.
More importantly, ANFA will have to step up and get down to serious business and not amplify the problems in the new year.