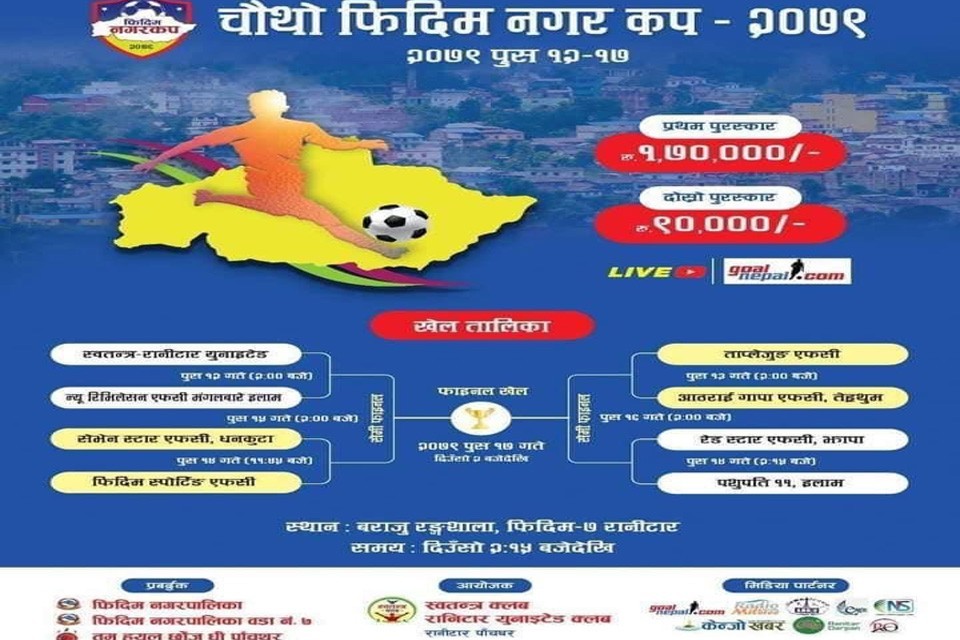 Panchthar (GoalNepal) - The fourth Phidim Nagar Cup Open Knockout is starting on Tuesday 12th of Poush organized by Swatantra Club and Ranitar United Club, Ranitar, Panchthar. The organizers informed that the necessary preparations for the competition have also been completed.
The schedule of the tournament to be held at Baraju Stadium located in Phidim-7, Ranitar has also been announced. The opening match of the tournament will be between the home team, Swatantra Ranitar United and New Revelation FC, Ilam. A total of eight teams have participated in the competition which will last till the 17th of Poush.
Phidim Municipality, Phidim Municipality Ward No. 7 and Tamu Huyul Chhonj Dhee, Panchthar are the promoters of the competition where the winners will receive Rs. 1,70,000 and the runners-up will receive Rs. 90,000. Similarly, the organizers informed that attractive prizes have been arranged for the individual categories as well.