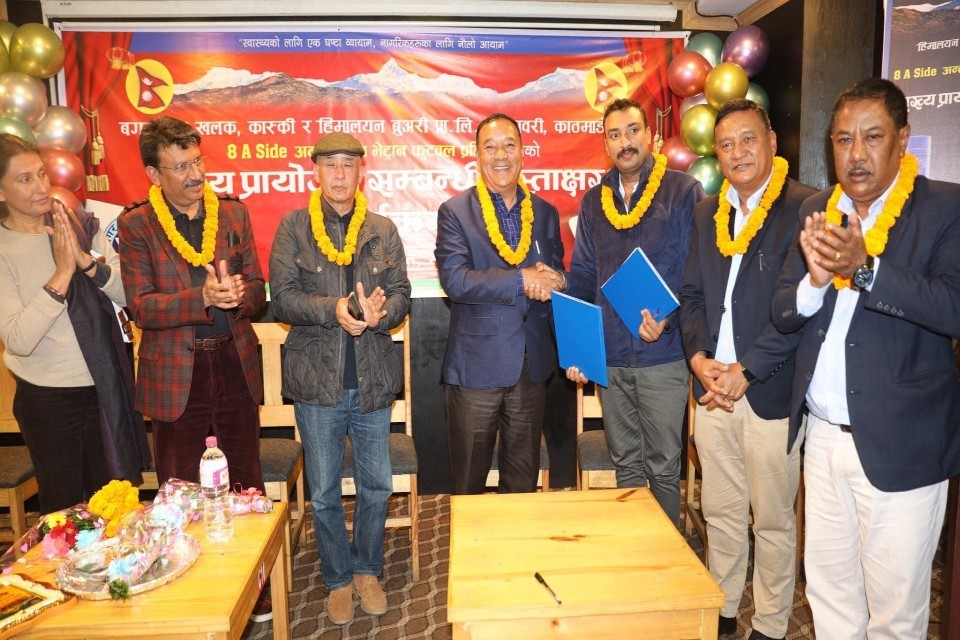 Himalayan Brewery Pvt. Ltd. At A Side is going to be the main sponsor of the International Veteran Football Tournament organized by Bagar Bhaikhalak for five years.
Chairman of CG Holding, Chairman of Arun Chaudhary Foundation, Support Nepal's UK Patron and prominent industrialist Mr. Arun Chaudhary, in the presence of Mr. Dil Bahadur Gurung, President of the organization and Mr. Karan Chaudhary, Managing Director of Himalayan Brewery Pvt. Ltd., signed the agreement.
According to the agreement, the industry will provide cash and in-kind sponsorship worth five lakhs per year for five years. Mr. Nabinn Gurung, founding president of Sahara UK, founding member and international coordinator of Support Nepal UK, who played the main role in making the agreement, was present as a special guest.
Mrs. Sheela Chaudhary (Arun Chaudhary's wife) was a special guest in the ceremony and around 100 people including various sports officials, social workers, and hotel and restaurant managers of Pokhara participated.
The title of the tournament that will be "Himalayan Brewery and 12th Bagar Bhaikhalak Eight A Side International Veteran Football Tournament 2079".
The decision to conduct the competition from January 17 to January 22 has been decided by the working committee, which met recently.
POKHARA STADIUM - 10% WORK IS STILL LEFT