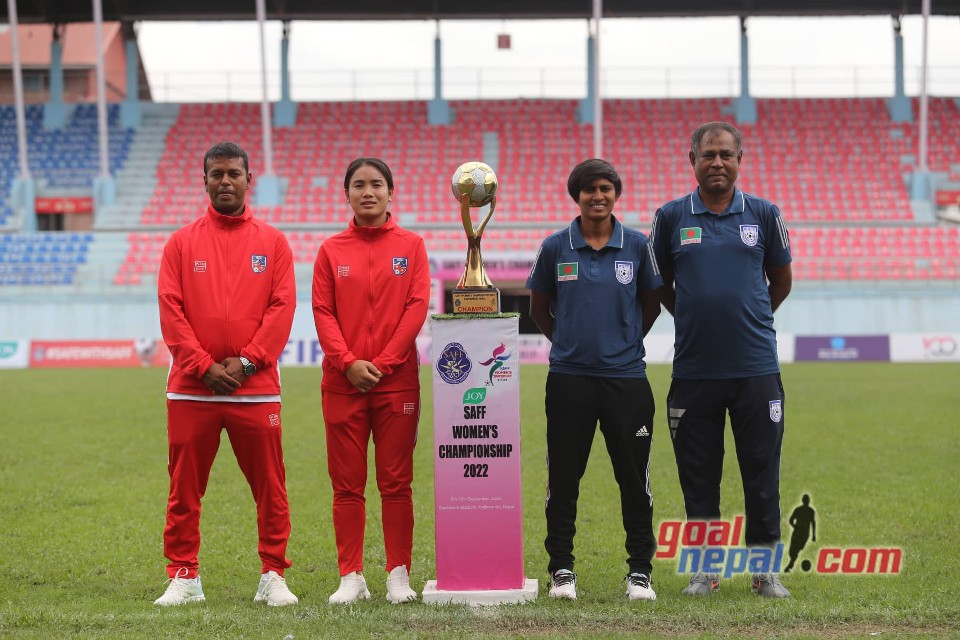 The SAFF Women's Championship final, which pits Nepal's women's national team against Bangladesh for regional dominance, will take place tonight at 5 PM at Kathmandu's Dasharath Stadium.
Whether Nepal or Bangladesh, whoever wins will take home their first SAFF Women's Championship trophy. India has won all five of the competition's prior editions heading into the sixth. It will be Bangladesh's second final in the competition, while Nepal will play in their fifth final.
Coaches' confidence:
The head coaches of Nepal and Bangladesh stated their confidence in their teams to win the title during the pre-match press conference prior to the final. "This time, a new champion will be crowned. Everyone is aware of this, and we don't want to blow this chance," remarked Kumar Thapa, the head coach of Nepal, during the pre-game press conference. "We don't want to upset the supporters after 90 minutes. The SAFF trophy is currently in Nepal, and we won't allow it to leave. We aim to keep this trophy and display it as champions for the next two years." Thapa also hopes to make up for Nepal's semifinal defeat from his previous stint in 2016.
Bangladesh head coach Golam Robbani Choton is also confident in his side. Choton said that his team is ready to play the final. "Our players are ready to play the final. We are mentally and physically ready", Choton said in the pre-match conference. Choton, who has managed the age-level sides and the women's national team of Bangladesh, is known as the pioneer of women's football in Bangladesh. He has won five trophies with age-level teams but is yet to win a title with the senior side. He will have an opportunity to tick a senior trophy off his list as his side takes on Nepal tomorrow.
The tournament so far:
In the competition, neither Nepal nor Bangladesh have coughed up a goal. In the competition, Bangladesh have scored 20 goals. Bangladesh skipper Sabina Khatun is in a stellar scoring touch and has so far scored eight goals. Nepal has played one fewer match than Bangladesh but still scored ten goals.
History on Nepal's side:
Before this tournament, Bangladesh were winless against Nepal and India in all of the previous five editions. Bangladesh's win against India in their final group stage match showcased the improvement in the side in recent years. Having come past the winless voodoo against India, Bangladesh will aim to register their first win against Nepal in the tournament and take the title away from the hosts.
Nepal and Bangladesh have faced each other three times in the previous five editions. Nepal have been victorious on all three occasions. The most recent meetings between the sides came in a friendly series last year where one match ended in a draw while Nepal won the other match. Before that, Nepal defeated Bangladesh 3-0 in the 2019 SAFF Women's Championship edition.
Team news:
Nepal striker Sabitra Bhandari has missed the last two matches after being infected with Dengue. Manjali Kumari Yonjan was also unavailable for selection due to the same issue. Their recovery process is going well, according to coach Thapa. Sabitra, if deemed fit, is expected to start. Preeti Rai is also expected to start after a stellar performance in her first start against India in the semifinal.
Predicted Nepal XI: Anjila Tumbapo Subba © (GK), Punam Jargha Magar, Gita Rana, Hira Kumari Bhujel, Amrita Jaishi, Dipa Shahi, Amisha Karki/Anita KC, Anita Basnet, Saru Limbu, Preeti Rai, Sabitra Bhandari/Rashmi Kumari Ghising
Bangladesh were forced to take off Jahan Shopna after she suffered an injury in the first half against Bhutan. She trained yesterday, according to coach Choton and her recovery process will decide if she will be fit to play. All other players are fit and available for selection.
Predicted Bangladesh XI: Rupna Chakma (GK), Sheuli Azim, Shamsunnahar, M. Akhi Khatun, Masura Parvin, Monika Chakma, Maria Manda, Sabina Khatun ©, Srimoti Krishnarani Sarkar, Jahan Shopna/Ritu Chakma, Sanjida Akhter
Ticketing & Broadcasting:
Tickets for the match and the entirety of the SAFF Women's Championship can be bought from Paywell. AP1 Television & Eleven Sports will broadcast the tournament live.