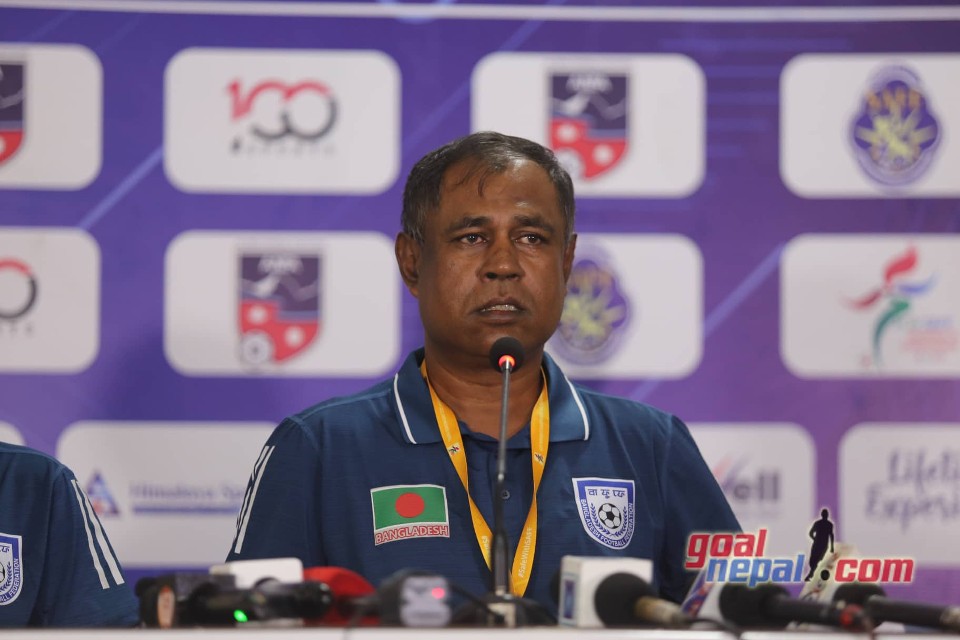 Bangladesh and Nepal will face each other in Monday's SAFF Women's Championship final. This will be Bangladesh's second final in tournament history while Nepal will be playing their fifth final. Both teams are yet to win the title. A new champion will be crowned tomorrow.
Speaking at the pre-match press conference on Sunday, Bangladesh head coach Golam Robbani Choton expressed his confidence in winning the title.
Choton said that his team is ready to play the final. "Our players are ready to play the final. We are mentally and physically ready", Choton said in the pre-match conference. "We have a plan for the final and we will play accordingly."
Choton also added that the final will be equally contested. "Looking back at our performances so far, we have played well", Choton said. "The final will be competitive a Nepal are a strong team as well."
Choton, who has managed the age-level sides as well the women's national team of Bangladesh, is known as the pioneer of women's football in Bangladesh. He has won five trophies with age-level teams but is yet to win a title with the senior side. He will have an opportunity to tick a senior trophy off his list as his side takes on Nepal tomorrow.
He looks wary of home support but is confident in his team's quality. "Playing against the host team is always difficult, but we are confident for the final", said Choton.
Captain Sabina Khatun, who has amassed eight goals in the tournament so far said that the team is ready for the final. She added that the team is ready to soak the pressure and play their way.
Bangladesh don't have history on their side, though. In three meetings in the SAFF Championship history, Nepal have managed to defeat Bangladesh on all three occasions. But the Bangladesh side look really improved this time. Their performance against India is a testament to this fact. They will look to get their hands on the trophy for the first time.