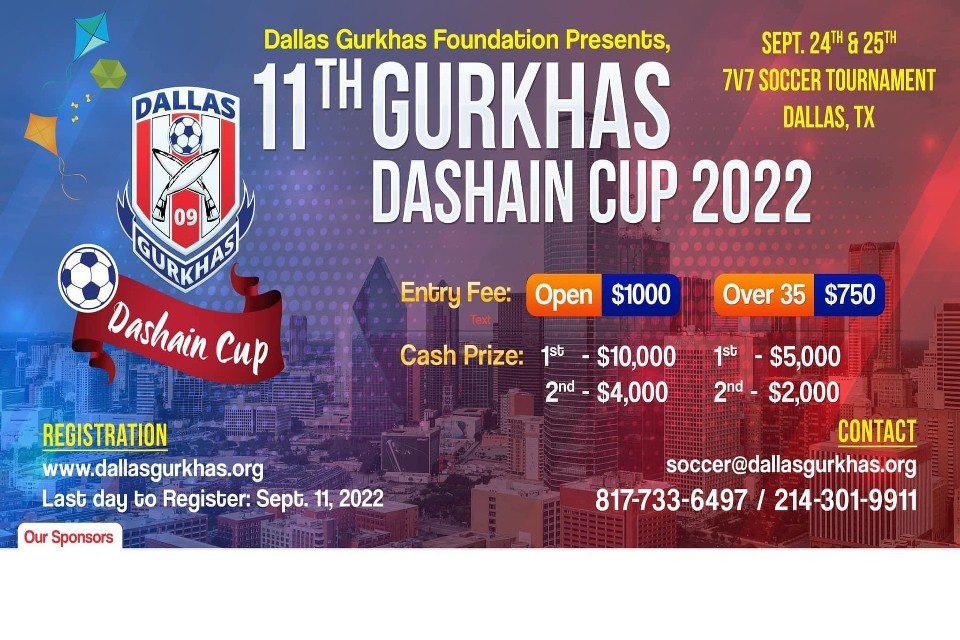 Dallas Gurkhas Foundation presents the 11th Gurkhas Dashain Cup 2022 is going to be held in Dallas, Texas, USA, on September 24 and 25.
The tournament will be played in two categories; regular and over 35.
The seven-a-side tournament will award the winners $10,000 and $5,000 in regular and over 35 categories, respectively. Similarly, the runners-up will receive $4,000 and $2,000, respectively. The deadline for registration is set for September 11.
Dallas Gurkhas Dashain cup has not only been a regular soccer tournament but it has been a traditional to Nepalese soccer community in USA. The club envisions to bring culture together and celebrate this auspicious festival by uniting community into one platform from last 11 years.
According to the organizer committee coordinator Mr. Anup Ghimire – the 11th Annual cup is all set to go. "We are excited to host all of the participating teams from all over the states", said Ghimire. Club President Mr. Binod Bista added, "we are thrilled to bring such an event in our community and to provide an opportunity for everyone to play".