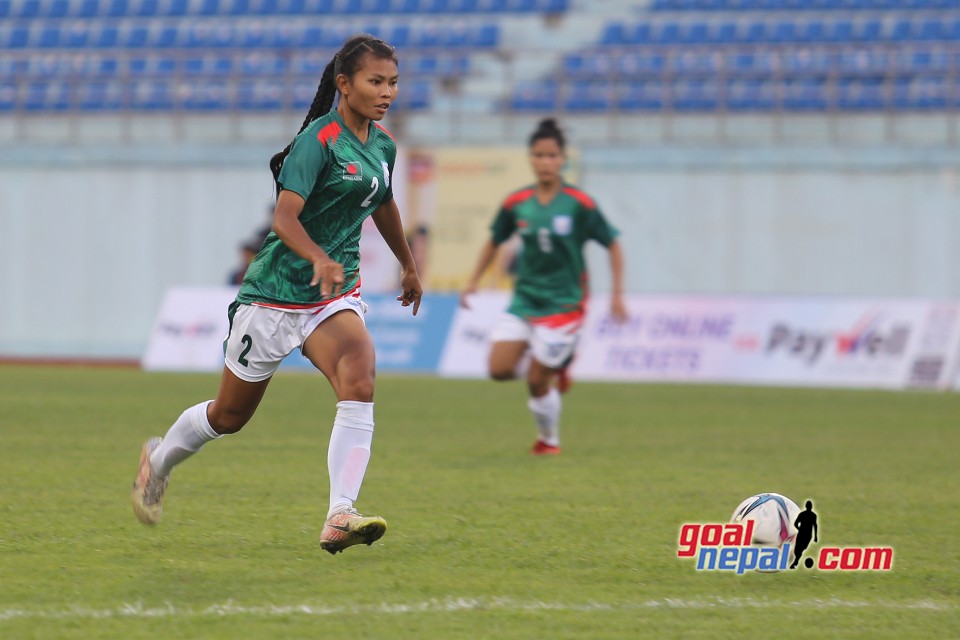 Bangladesh Women's National Team have registered a dominating 3-0 victory over Maldives in the ongoing SAFF Women's Championship in Kathmandu. Bangladesh defeated Maldives thanks to a brace from skipper Sabina Khatun and a goal from Masura Parvin and registered three points in group A.
Bangladesh dominated the whole match but had to wait until the 32nd minute of the match to take the lead. Captain Sabina Khatun tested the Maldivian number one Aminath Leeza from outside the box. Leeza couldn't judge the shot and the ball went into the back of the net.
Bangladesh didn't have to wait long to get their second. Just two minutes later, Aminath Leeza rolled the ball into the bottom left corner of Leeza's goal to give the Bangladeshi side a 2-0 lead.
Bangladesh added another goal just six minutes later in the 40th minute. Maria Manda's long-range effort brought out a diving save from Leeza and the rebound was there for the taking. Captain Parvin showcased her poachers' instinct by being at the right place and finished off the rebound to net her second and the team's third goal.
Alongside Bangladesh and Maldives, India and Pakistan complete group A. India registered a 3-0 win against Pakistan earlier today to start their campaign with three points on board.
Maldives will now face India on September 10 and Bangladesh on September 13. Bangladesh will face Pakistan on the 10th before facing the Maldives in their final group match on the 13th.
The regional women's championship is being hosted by Nepal in the country's capital until September 19. Seven SAARC nations are participating in the tournament.