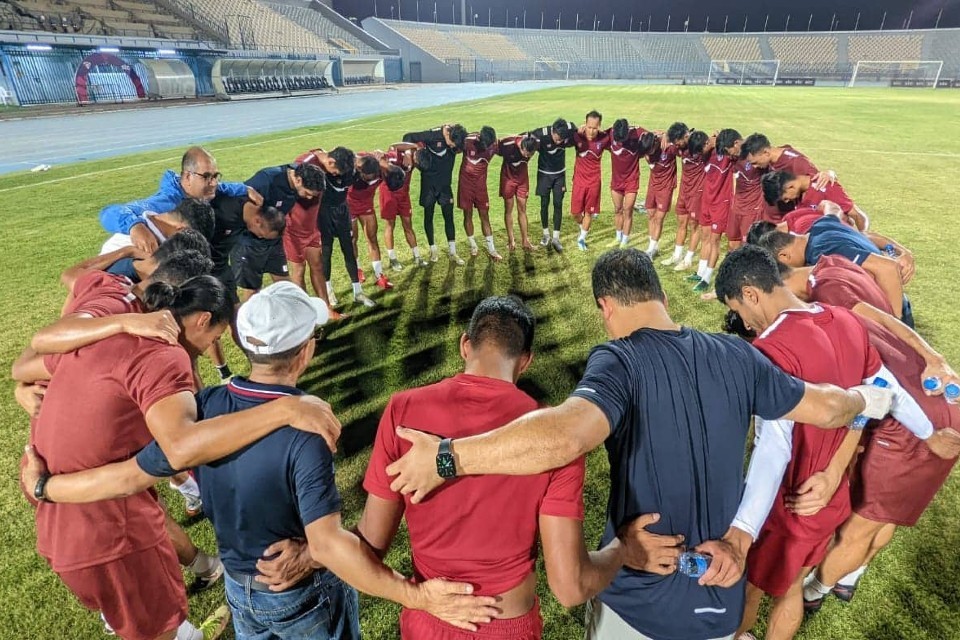 The men's national football team of Nepal is gearing up for the third round of the AFC Asian Cup Football Qualifiers in Kuwait.
As you are aware, the preparation and team selection for the tournament was hit hard by a dispute between Kuwaiti Head Coach Abdullah Almutairi and a section of players,and chaos resulted.
Ten players who could have been in the first playing eleven including highly experienced international Rohit Chand left the closed camp in protest The unfortunate incident couldn't have come at a worse time for the team.
The Kuwaiti coach, unfazed by the unexpected turn of events, responded quickly by summoning 17 players in place of those who left the closed camp. Given the circumstances, the team announced for the tough qualifiers might not be the strongest and best, but it is not short on talent without a doubt.
The squad is loaded with highly talented and promising youngsters.Of course, every coach looks for a perfect blend of youth and experience in the team. Coach Almutairi's side has talent, but is lacking in experience.
With a few exceptions, the new faces in the team have limited international experience, but they look poised for stardom. Highly experienced striker Nawayug Shrestha has replaced international custodian Kiran Chemjong as captain of the team.
Shrestha shoulders a big responsibility and must provide strong leadership to his teammates on and off the pitch. He has to lead by example. The players who did not expect to be in the playing eleven have a big chance to prove themselves. They must step up,perform to their fullest potential, go the extra mile, and, more importantly,make the best of this opportunity. They cannot afford to let the chance slip by. They have to stay one hundred percent focused,committed, composed, confident and give their very best.
In addition, they must keep a positive mindset in spite of challenges throughout the competition. Nepal turned in an average performance in three preparation matches.
They drew against Timor-Leste and Sri Lanka and lost to Oman. Going down to a technically superior opposition like Oman was no surprise. They did pretty well to restrict them to two goals. However,the performance against lowly Timor-Leste and Sri Lanka was far from desired.They should have performed better. We can only hope that they overcome their shortcomings and come out with a vastly improved performance. Understandably, rebuilding the team in a short period of time sans ten regular players was very challenging for the coach on all fronts.
If the team's overall friendly matches performances are any indication,Nepal has a mountain to climb in the qualifiers,undoubtedly. They are the clear underdogs against Jordan,Kuwait and Indonesia in Group A. Nepal faces physically, technically and tactically superior opponents in Jordan and Kuwait, two giants of Asian football.
Almutairi boys will require a herculean effort in order to give them a run for their money. They have nothing to lose against superior opponents. It will be a blunder to get bogged down. Long as they go down fighting, there is no shame in losing.
To make it happen,Nepal needs to get off the blocks aggressively, be competitive, play with purpose, intensity and confidence, rise to the occasion, display fighting spirit and grit. Additionally,team cohesiveness has to improve and goal scoring opportunities must not be squandered.
They have to be mentally and physically prepared for the grueling challenge.There is absolutely no room for mediocrity,lethargy,inconsistency and unforced errors.
They take on Jordan in the opener, followed by Kuwait and Indonesia in the second and third matches respectively. Indonesia might not be a high caliber side but they are capable of playing good football.
I think Nepal stands a good chance against them. Although Nepal (168 ) is 9 places below Indonesia (159) in FIFA rankings, I still feel they can achieve a positive outcome provided they get their act together.
Nepal must look for a better performance and better result going into the qualifiers regardless.The team has to look upon the qualifiers as a great learning opportunity to grow and improve.
By Sushil Thapa, Fairfax,VA, USA

Note: The opinions expressed in this publication are those of the author. They do not purport to reflect the opinions or views of Biba Media Group.