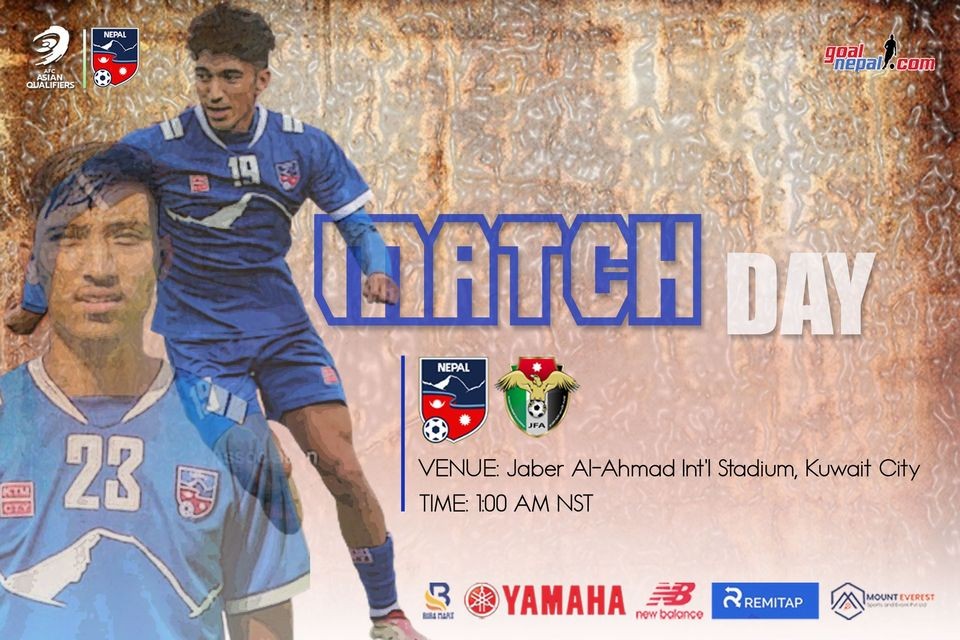 Nepal will take on Jordan tonight in the first group match of the AFC Asian Cup Qualifiers final round. The sides will take the field on June 9, 1:00 AM NST (June 8, 9:45 PM local time) at the Jaber al-Ahmad International Stadium in Kuwait City, Kuwait.
Nepal is currently ranked 168th in the latest FIFA rankings while Jordan are highly superior to Nepal with the latest FIFA rankings keeping them at 91.
Team news:
Nepal is currently short of the players that left the closed camp last month citing dissatisfaction with the head coach Abdullah Almutairi. Four new faces in Bikash Tamang, Nir Kumar Rai, Shiva Gurung and Roshan Rana Magar have been called up for the first time. Nepal is without captain Kiran Chemjong who was left out of the squad and the reason for that hasn't been made public.
Squads:
Nepal: Bishal Sunar(GK), Deep Karki (GK), Tikendra Thapa (GK), Bikash Khawas, Bikash Tamang, Gautam Shrestha, Rajan Gurung, Shiva Gurung, Suman Aryal, Akash Buda Magar, Arik Bista, Nir Kumar Rai, Pujan Uperkoti, Roshan Rana Magar, Santosh Tamang, Sesehang Angdembe, Sunil Bal, Suraj Jeu Thakuri, Ayush Ghalan, Darshan Gurung, George Prince Karki, Manish Dangi and Nawayug Shrestha ©.
Jordan: Malek Shalabiya, Mahmoud Al-Kawamleh, Yazeed Abulaiba, Mohammad Hasheesh, Yazan Al-Arab, Tareq Khattab, Ihsan Haddad, Munther Abu Amarah, Bara Marie, Abdallah Naseeb, Mohammad Al-Dumeiri, Khalil Baniateyah, Rajaei Ayed, Saleh Rateb, Bahaa Abdulrahman, Musa Al-Taamari, Noor Al-Rawabdeh, Ahmed Samir, Mohammed Abu Zrayq, Ali Iyad Olwan, Mahmoud Al Mardi, Yazan Al-Naimat, Hamza Al Dardour.
Recent results:
Nepal's recent series of matches were unofficial friendlies in Doha where Nepal played a 2-2 draw against Timor-Leste, a 1-1 draw against Sri Lanka and a 2-0 loss over Oman.
Jordan, on the other hand, lost to Australia 2-1 last Wednesday and registered a 2-0 victory over India before that in preparation for the qualifiers.
Nepal and Jordan were in the same group in the second round of qualifiers as well where Nepal lost both matches 3-0.
Broadcasting:
There have been no official confirmations about broadcasting in Nepal. We will update on our platforms as soon as we get any information.