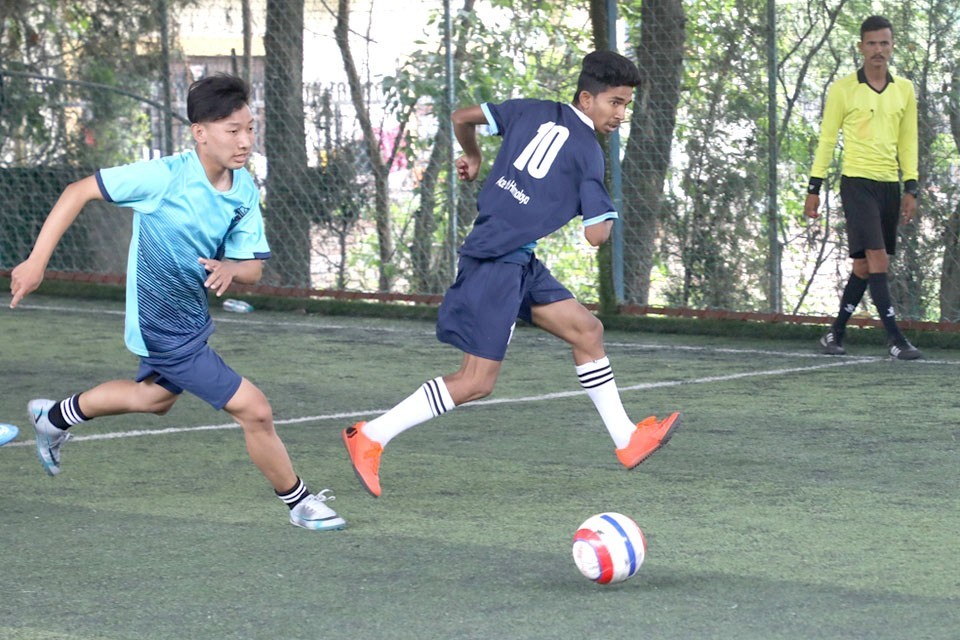 Yashaswi and Green Village Foundation have entered the final of the first Bright Future SEE Cup student futsal competition on Friday.
In the first semi-final of the tournament organized by Bright Future Secondary School Plus Two, Yashaswi defeated Dhruba Tara 4-3. Winners' Abhijit Rana Magar scored two goals and Dhannath Dhungel and Nissan Raj Pariyar scored one goal each. Dhruba Tara's Rikesh KC scored two goals and Shreejan Shrestha scored one goal.
Green Village defeated Nepal National School 4-3 in a tiebreaker in the other semi-final. The match ended in a 2-2 draw. The final will be on Saturday.
Chairman of Bright Future, Mohan Karki, stated that 25 student teams will participate in the competition. The U-17 age group competition winners will get Rs 25,000 and the runner-up will get Rs. 15,000 cash prize.
On the departmental side, the best player, best goalkeeper, best team and top scorer will be rewarded with 5,000 cash each.
Shyam Maharjan, head of Bright Future Secondary School Plus 2, informed that the winning team and departmental best players would be given full scholarships for Bright Future Plus two studies.