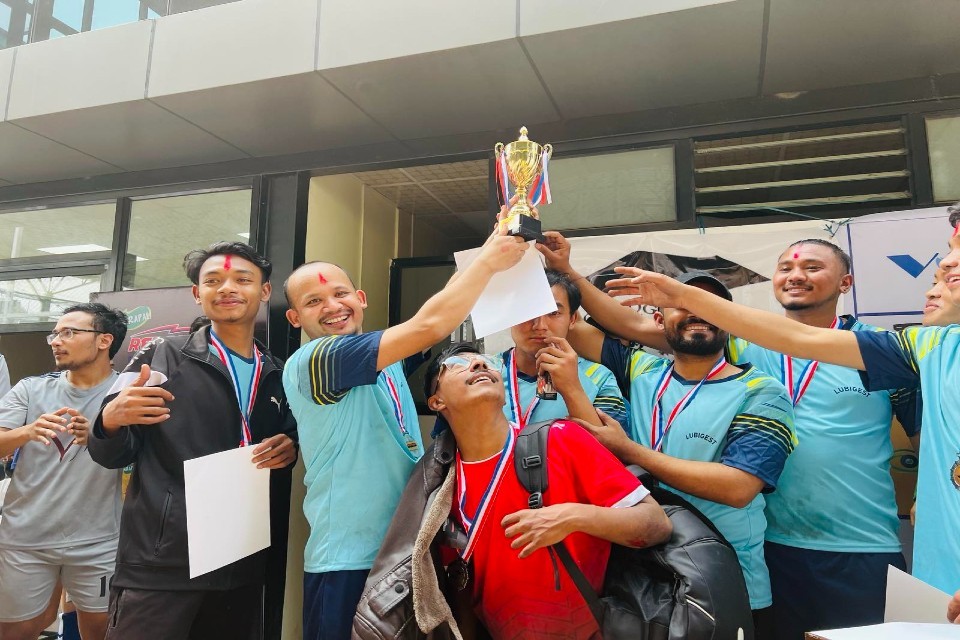 Tilganga Institute of Ophthalmology team has marked their pioneer victory in the First Inter Eye Care Futsal Tournament -2078. Vision Together Nepal (VTN) successfully conducted the first ever Inter Eye Care Futsal Tournament – 2078 at Dhuku Futsal Hub, Baluwatar.

The chief guest of the event was Dr. Roshan Pokhrel – Secretary of Ministry of Health and Population who highlighted the importance of Futsal tournament commenting the fact that it promotes unity and harmony among eye care professionals.

A total of eight teams namely, Tilganga Institute of Ophthalmology, Bharatpur Eye Hospital, Matrika Eye Center, ASG Eye Hospital, Eye Mart Nepal, Drishti Eye Care System, Nepal Eye Hospital and Metro Eye Care participated in the tournament which was conducted in league and knockout format. The league matches were played for 20 minutes and the knockout stage was played for 30 minutes

In the finals, Tilganga Institute of Ophthalmology won the match against Nepal Eye Hospital by 2-0 while the third position was secured by Metro Eye Care who won the match against ASG eye Hospital by 3 -0.

Dr. Sakshyam Tamang from Tilganga Institute of Ophthalmology won the best player award while the best goal keeper award was awarded to Hisan Shrestha from Metro Eye Care. Similarly, Birendra Mahat from Metro Eye Care won the Highest scorer award by scoring 13 goals in the tournament.

The key supporters of the event were Style Hunt, Advanced Lifesciences Pvt. Ltd (Topcon), Meditech systems Nepal Pvt. Ltd (Nidek), AR Opticals, Gracy Opticals, Bhagawan Traders, Aayam Opticals, Jagadamba Opticals, Vision Care Division (Zeiss Ophthalmic Lenses), Lifeline Pharmaceuticals and Sweekriti International Pvt. Ltd (Aurolab). The RED RHINO from Amrapali Beverages was the energy drink sponsor, Mahashakti Cements Pvt. Ltd. were the venue sponsor and SEED Contact Lenses were our Contact Lens Sponsors.