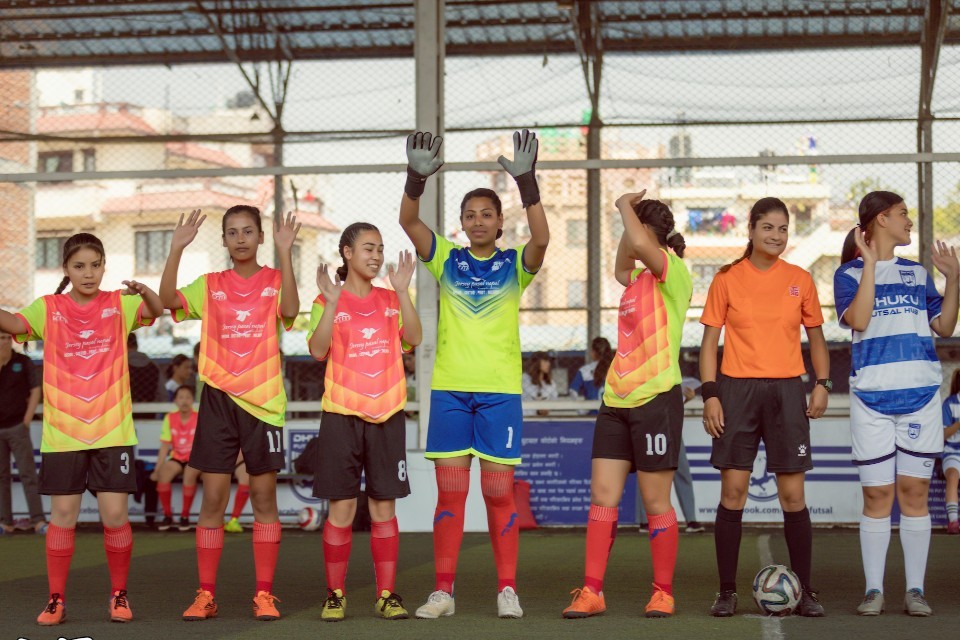 A total of 49 goals were scored during the third week of Mahila Premier League IV. Dhuku Futsal is comfortable at the top of the table winning both the games last Saturday against Barca Nepal by 6-1 and against Krijal FC by 4-0, followed by Mega Power in the second.

Mega Power, a club formed to empower women through sports also won both their games against Students Football FC by 8-2 and The Mighty Mahilas by 2-1 in a very competitive game.

Krijal FC fell to the third spot after winning one game against Futsal 5 and losing one against Dhuku. WePlay Kumari moved to fourth spot from the bottom of the table after winning both their games, thanks to their fierce goal keeper Jharana Baglung who was on top of her form making many critical saves for WePlay. Sujita Ghalan stands on top of the highest scorers list with 7 goals followed by Manisha Thapa Magar and Sabina Tamang with 6 goals each.

The third week of MPLIV showed prominent characters of the players and unexpected shifts in the League table. With three more weeks to go, the competition is rising and we are all pumped up for the coming week.

Bara Nepal, Krijal FC, Dhuku Futsal, Futsal 5, Mega Power, Weplay Kumari, Student Football Club and The Mighty Mahilas are the 8 competing teams in MPL IV.

WE United was established with the primary objective to engage women in sports and inspire them to become strong and independent. By conducting training sessions and tournaments,

WE United strives to create a safe communal space to educate women and aspire them to be more active and vocal about their interests. MPL, Nepal's first women's futsal league, is a fully women-run initiative: played by women,
organized by women, and refereed by certified professional female referees.

Now in its fourth season, MPL is organized by The WE United Project and funded by the European Union. In support of The WE United Project's mission, MPL provides a platform for women players to interact with one another, develop communication and leadership skills on and off the field, and build a supportive network.