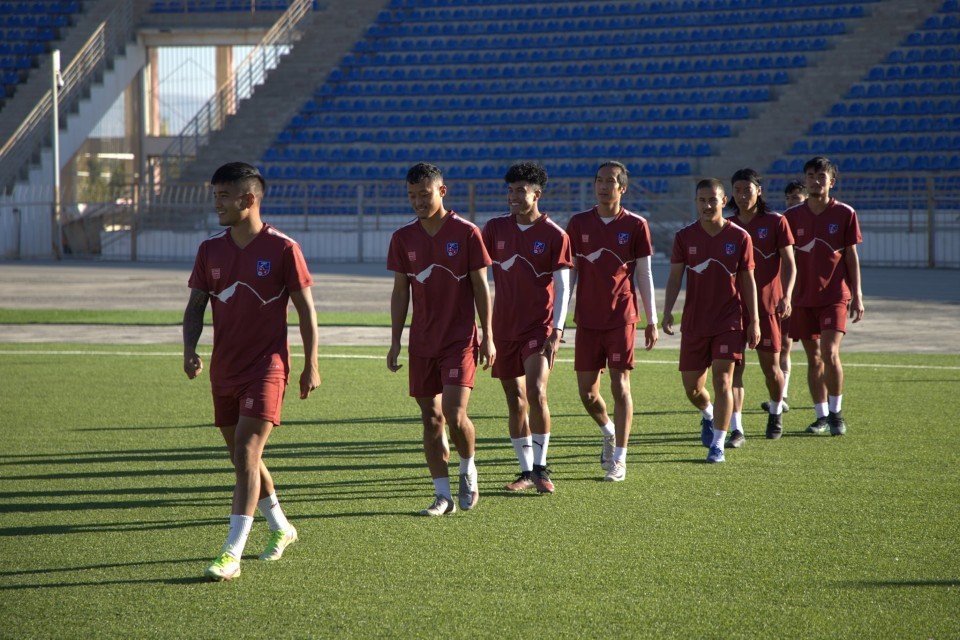 From Male,Maldives the action shifts to Dushanbe, capital of Tajikistan as Nepal's Under-23 men's national team gears up for the Group B AFC Under-23 Asian Cup qualifiers.
They are all set to take on formidable Iran in the opener. The other teams in the group are Lebanon and Tajikistan.
Given the quality of opposition in the group,the Nepali Olympic squad faces quite a challenge.Experienced Head Coach Bal Gopal Maharjan's side is made up of talented, seasoned and fiercely ambitious players.
The team roster includes a host of players who played in the recently concluded 13th South Asian Federation Football Championship in Maldives.
Coach Maharjan has made it clear that he did not have enough time to prepare the team for the tournament. The reason was, a good number of players selected for the Tajikistan challenge were with the senior team for the Maldives tourney.
He added that his side was up against strong opponents and would do their utmost best to become highly competitive and deliver results.
As part of the preparation for the qualifiers, Nepal played a friendly against Indonesia's Under-23 and lost.

It is obvious that Coach Maharjhan must iron out a lot of things before the opener against Iran to make the game competitive.
Against the physical and technical Iraninan side, there is literally no room for mediocrity and complacency of any sort.They have to play their best game with plenty of commitment and fire in the belly.
Nepal must click as a team, show composure, eliminate the psychological barrier,improve mental toughness and confidence.Players have to unlock their potential to maximize their performance.
As always, it is imperative to get off to a good start. That is possible unless they play aggressively and consistently, execute the game plan effectively,take their offensive and defensive play to the next level and cash in on scoring opportunities.
This is another great opportunity for players who are vying for spots on the senior national team to showcase their talents and impress selectors. They must not waste this chance.
Coach Maharjan is most likely to start with all players who were in the senior squad for the regional championship in Maldives.
I expect highly skilled and talented striker Manish Dangi who made headlines in the regional championship to spearhead the attack.
In Maldives Dangi came on as a substitute in all matches but is expected to start in the first eleven against Iran.He will have plenty of playing time to prove himself.
Likewise, the rest of the team members have to step up,rise to the occasion to give themselves a fighting chance in the tournament.

By Sushil Thapa, Fairfax,VA, USA