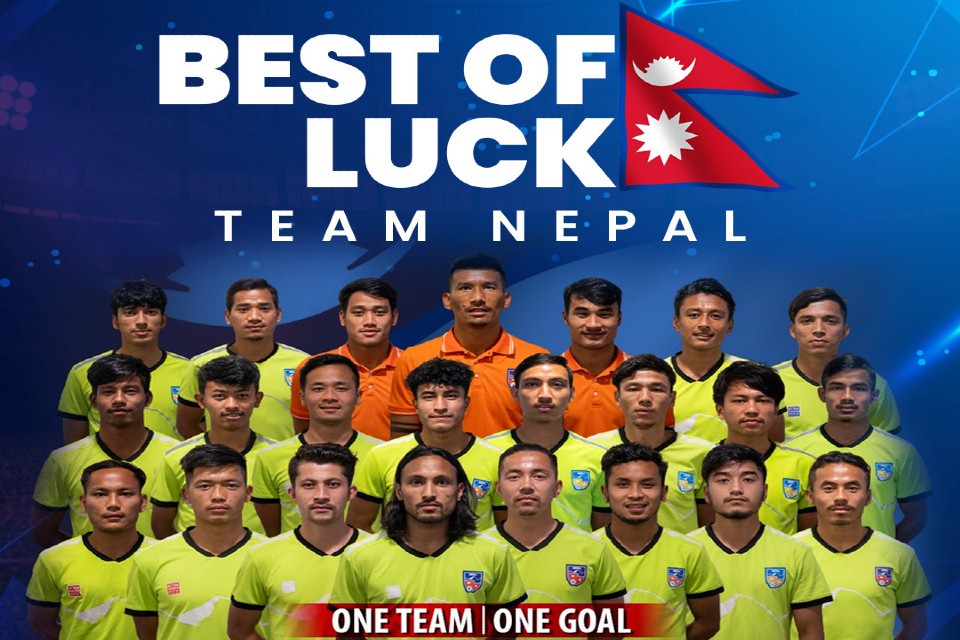 The national team of Nepal gear up for the final stretch of the 2022 World Cup Qualifiers Round Two in Kuwait City,Kuwait.

After more than eighteen months,Nepal will be back in action to play the last three matches in Group B against Chinese Taipei, Australia and Jordan .

Prior to postponement of World Cup qualifiers, Nepal's last match was against Kuwait in November 2019 in Thimphu,Bhutan. In fact, Nepal's home match was moved to Bhutan because Dashrath Stadium did not meet FIFA and AFC standards.

It may be recalled that they put in a spirited performance against the formidable opponent before going down by a solitary goal.

In four away matches, Nepal lost to Kuwait 0-7, Australia 0-5 and Jordan and 0-3 and snatched an impressive 2-0 win over Chinese Taipei.

With four defeats and one win, Nepal is second from the bottom in Group B standings. Team Nepal, coming off a friendly against Iraq, enters the competition brimming with confidence and looking to improve their standings.

Although they lost to a much stronger and superior opposition by a big margin (2-6),they can take solace in defeat.
The team can feel good about their overall performance.The two goals they scored was in itself a big achievement.They should get and stay motivated going forward.

The positive mindset of players caught my attention. They looked super excited,enthusiastic and keen to prove themselves and perform well.

The chance to play Iraq,one of the powerhouses of Asian football immensely benefited the team.Never mind the blowout result. During the course of the game Nepal's weaknesses were exposed and areas the coach needed to work on. Also the team was reminded where they stand technically,tactically,physically and mentally.
There is no denying the fact that there is plenty of room for improvement in every department.They must strive to improve on their performance. The actual game is a whole new ball game.They have to learn from their mistakes and play with purpose and renewed zeal.

The newly appointed 39-year-old Kuwaiti Head Coach Abdullah Almutairi has been in the news lately.Since he took over the national team,he has set lofty goals and set the bar high for the team.I see nothing wrong with setting goals.

Whether those goals are achievable, attainable and realistic in the context of Nepal football is debatable and time will tell.

I will say,though, challenges facing foreign coaches in Nepal football are far from easy. Mr.Almutairi is the latest addition to the long list of foreign coaches the national team has had in the last nine years.

The irony is that foreign coaches' success rate is at its lowest when it comes to yielding results. Coach Almutairi drew the ire of fans and media over team selection,which included six rookies for the World Cup Qualifiers.

A host of seasoned and prominent players were axed by the coach.Justifying his selection, he retorted that he picked the best,fittest players and excluded those who carried injuries. Players selection must be strictly based on talent, merits,physical fitness and a system of play embraced by the coach.

Coach Almutairi one year contract has just kicked off, therefore,it is way too early to evaluate his performance.

Nonetheless,he has a team of predominantly freshmen and a handful of experienced players. It will be interesting to see how the coach molds the young team. With FIFA and AFC opting for centralized venues for the entire remaining Asian qualifiers,Nepal has squandered the opportunity to play their three matches at home.

Nepal's exit from the qualifiers looks certain and should not surprise anyone.They have a slim mathematical chance to stay in the competition,but it is very unlikely. Of the three matches,Nepal starts against Chinese Taipei.The clash of the minnows is more than just to avoid taking the wooden spoon.

By Sushil Thapa, Fairfax, VA, USA