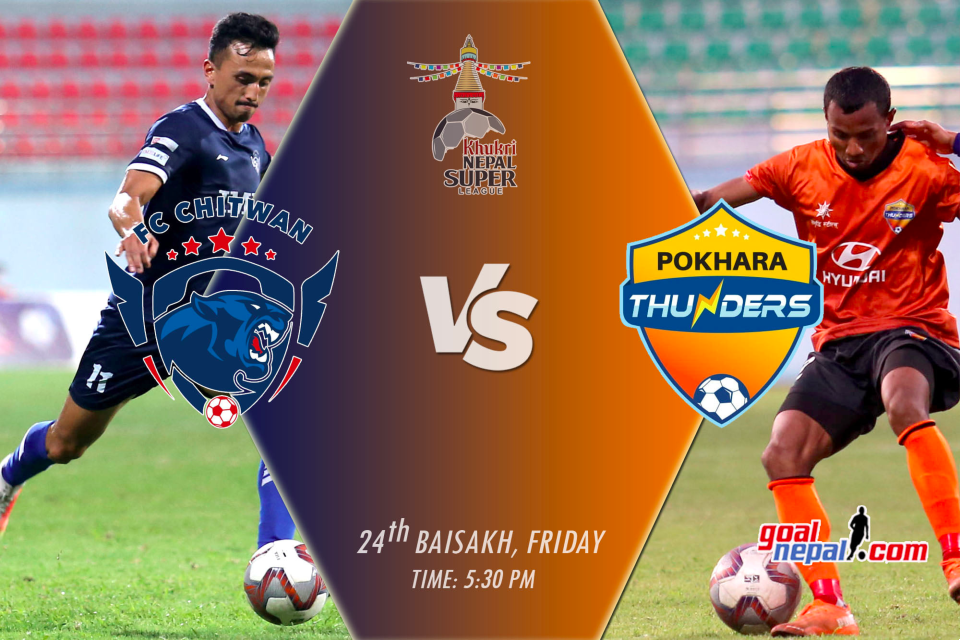 Pokhara Thunders FC face FC Chitwan in what will be a clash of the two bottom-placed teams in the Nepal Super League at Dashrath stadium in Kathmandu Friday.

Now it is clear that four teams are battling for the two remaining playoff spots. Dhangadi FC and Kathmandu Rayzrs FC are already through to the playoffs.

Pokhara Thunders with 5 points are second from the bottom, while FC Chitwan are at the bottom with 2 points. It is a must win game for both sides.A goalless draw will not help either side, and the losing team exits from the competition.

This match does have some relevancy and significance.As things stand,it is too early to say whether the final outcome of the match will have any bearing or not on the current standings.

It would be fair to say that both sides are on the brink of elimination, and their playoff hopes hinge on the outcome of Friday and Saturday matches.

Looking at Pokhara Thunders playoff chances,firstly they must defeat FC Chitwan by a healthy margin. And the match between Biratnagar City FC and Lalitpur City FC has to end in a goalless draw. Lastly, Dhangadhi FC must either defeat or draw Butwal Lumbini.

Same applies to FC Chitwan who have two matches in hand.The challenge for them is even bigger, and they play the final match against Kathmandu Rayzrs.

Given their mediocrity and streak of poor performance, it is a tall order for them.I don't fancy their chances.
We cannot completely rule out the aforementioned possibilities because strange things have happened in football.After all the game of football is full of uncertainties.

Taking that into consideration,Pokhara Thunders must play with focus,intent and passion to end the tournament on a winning note. Understandably,it has been a very frustrating and disappointing tournament for the Pokhara
outfit performance and results wise.

They have been a struggling lot hit hard by sloppiness, complacency and inconsistency.To add, they lack a winning combination and confidence in their performance to turn things around.
Against FC Chitwan they have to go out with a dominant mindset and play an all out attacking football to seize control of the proceedings.

They have to keep in mind that they will need to score as many goals as possible to keep their slim hopes alive.
The way they have struggled for form, it is by no means an easy task getting quick goalsThey must make every attempt to turn it around.

What they require is a vastly improved performance, including finishing and scoring ability. If they peak form,the target is achievable.

FC Chitwan's overall performance has been noticeably poor.They have underperformed and mightily struggled offensively and defensively.

The math is simple, they have to win their remaining two matches handsomely to give themselves a remote chance to make the playoffs.

It will be a Herculean task for them to get it done. They will need an extraordinary collective and individual effort against two relatively tough opponents Pokhara Thunders and Kathmandu Rayzrs.

The situation in which they are, their only option is to play a high press game throughout the match. They must go all out to achieve improbable success.Should they succeed, it will be a fascinating comeback story.

Perhaps we are in for a big surprise. In my book Pokhara Thunders are favorites against FC Chitwan.

By Sushil Thapa, Fairfax. VA, USA