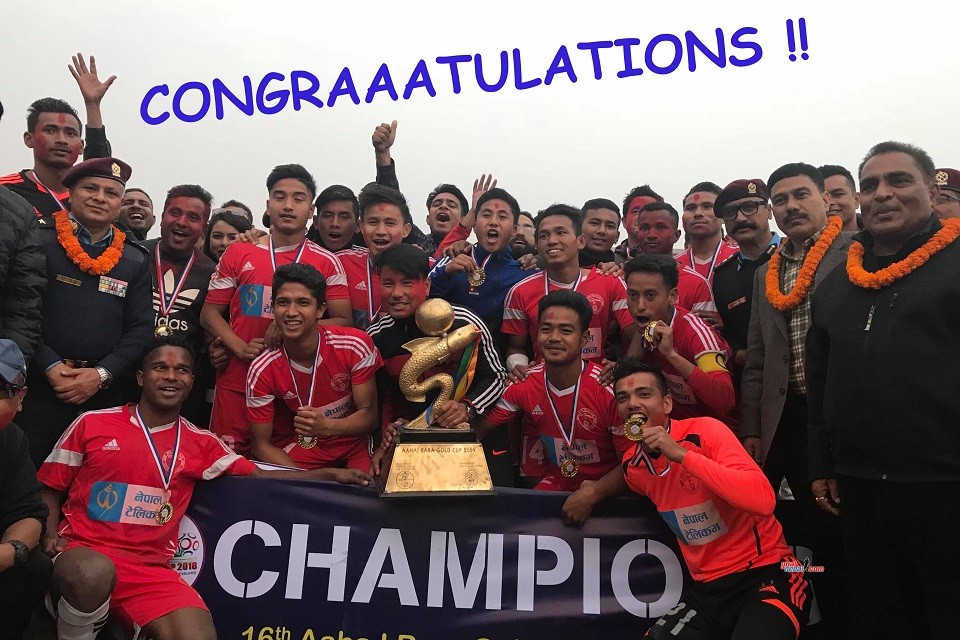 Super sub Ram Wajee scored the match winner in extra time as Nepal Police club defeated Ruslan Three Star Club 1-0 to win the title of 6th Aaha! RARA gold cup final in Pokhara.

Wajee, who replaced Abhisek Rijal, scored the winner in the stoppage time of first half of extra time.

The champions received Rs 7 lakhs, trophy, medals and certificates.

Ruslan TSC: Alan Neupane (GK), Peter Segun, Ananta Tamang, Ranjit Dhimal, Bikram Lama (C), Nirajan Khadka, Sunil Bal, Buddha Chemjong, Ajayi Martins, Bishwas Shrestha, Bijay Dhimal
NPC: Suman Lama, Nir Kumar Rai, Ravi Paswan, Abhisek Rijal, Hem Tamang (C), Tej Tamang, Ajit Bhandari, Dinesh Rajbanshi, Buddha Lama, Shatrughan Chaudhary, Santosh Hemroom.
7th Rajarshi Janak Cup: NNJYC Simara Vs NPC